Dan Ilic, Linh Do and Abiose Adelaja Adams
Bertha Challenge Fellows Dan Ilic, Linh Do and Abiose Adelaja Adams used creative approaches to reach new audiences in their work to address the climate crisis, including an award-winning comedy podcast and a theatrical production about oil extraction.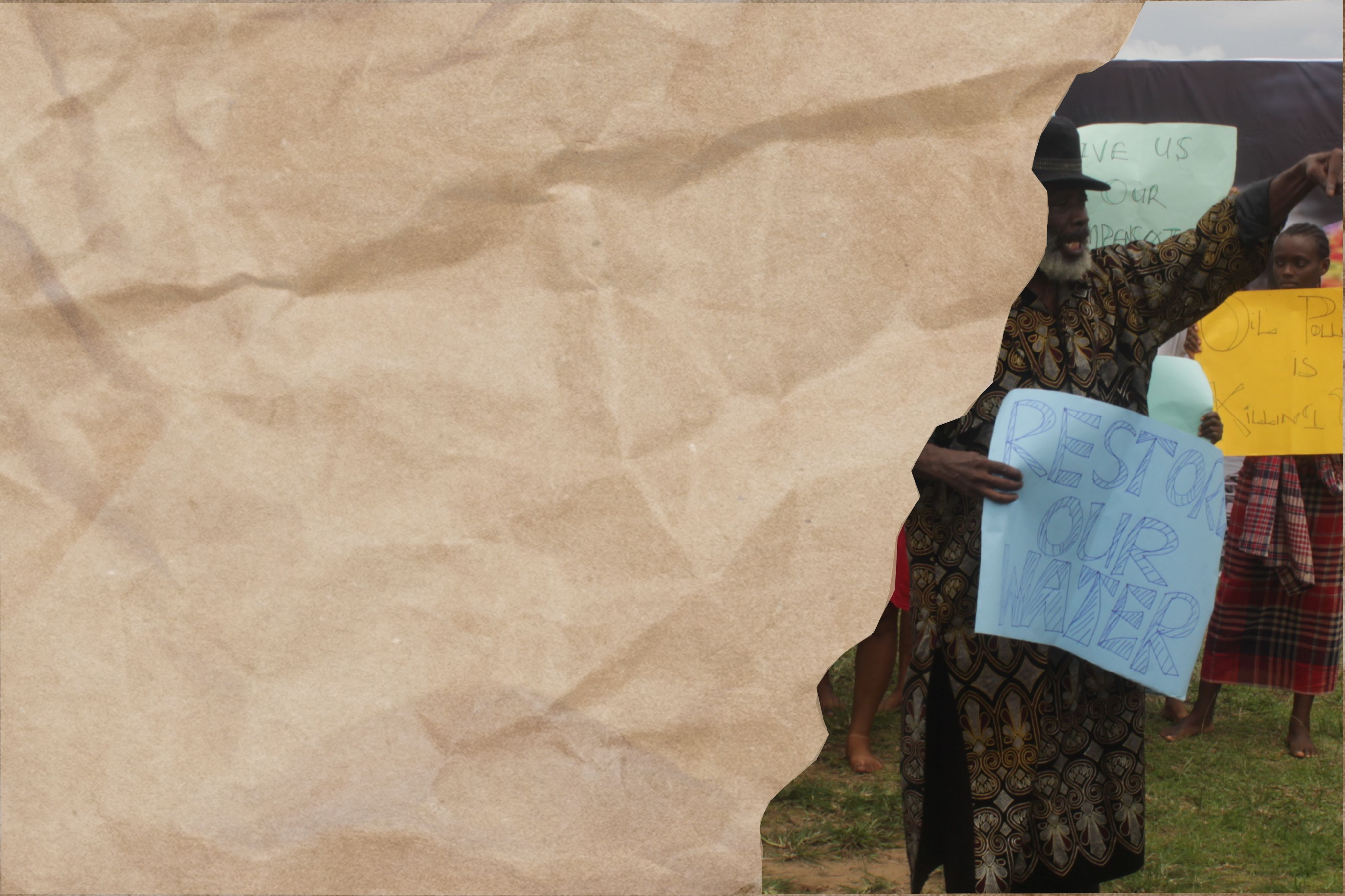 Are you a journalist or activist interested in investigating relationships between food, profit and politics? Applications for the 2023 Bertha Challenge are now open!
.
Find out more and apply here!
Australian Bertha Challenge Investigative Journalist Fellow Dan Ilic describes himself as an "investigative humorist." He uses comedy as a tool to talk about climate stories that often get ignored in Australia's mainstream media. For his Fellowship, Dan created weekly episodes of the satirical comedy podcast A Rational Fear, bringing together experts, activists, journalists and comedians to discuss topical stories. He also set up The Greatest Moral Podcast of Our Generation – a monthly spin-off podcast focused solely on climate issues. Dan and Australian Bertha Activist Fellow Linh Do applied as a pair. Linh focuses on introducing voices from younger and underrepresented groups to Dan's podcasts and live shows.
"Over the course of the last decade, there has been an abundance of information produced on the climate crisis. Yet, the options for taking action have seemingly been reduced to signing a petition, donating to a nonprofit or being arrested. A myriad of other steps on any ladder of engagement do exist, but they are opaque to the general public. If we are to build an inclusive and representative movement to tackle the climate crisis, organizations (and funders) need to do a better job of broadening the tent without making breadth a race to the bottom." – Linh Do on her Bertha Challenge project
Linh brought in Indigenous rights activists, YouTube and TikTok stars as well as guests with a limited mainstream-media profile to feature in lineups that also included politicians, billionaires, celebrities and Australia's former prime minister Kevin Rudd. Linh and Dan's strategy of raising difficult climate concerns through comedy was hugely successful. The podcast grew from 100,000 listeners over the previous eight years to more than 140,000 listeners in just nine months of the Bertha Challenge year. It also won the Australian Best Comedy Podcast Award.
Dan's Fellowship year culminated with live shows in two of Australia's climate- vulnerable cities: Newcastle – a traditional mining area and home to Australia's largest coal mines – and Bega, one of the areas worst hit by the 2020 bushfires, where promised emergency funds still haven't been delivered.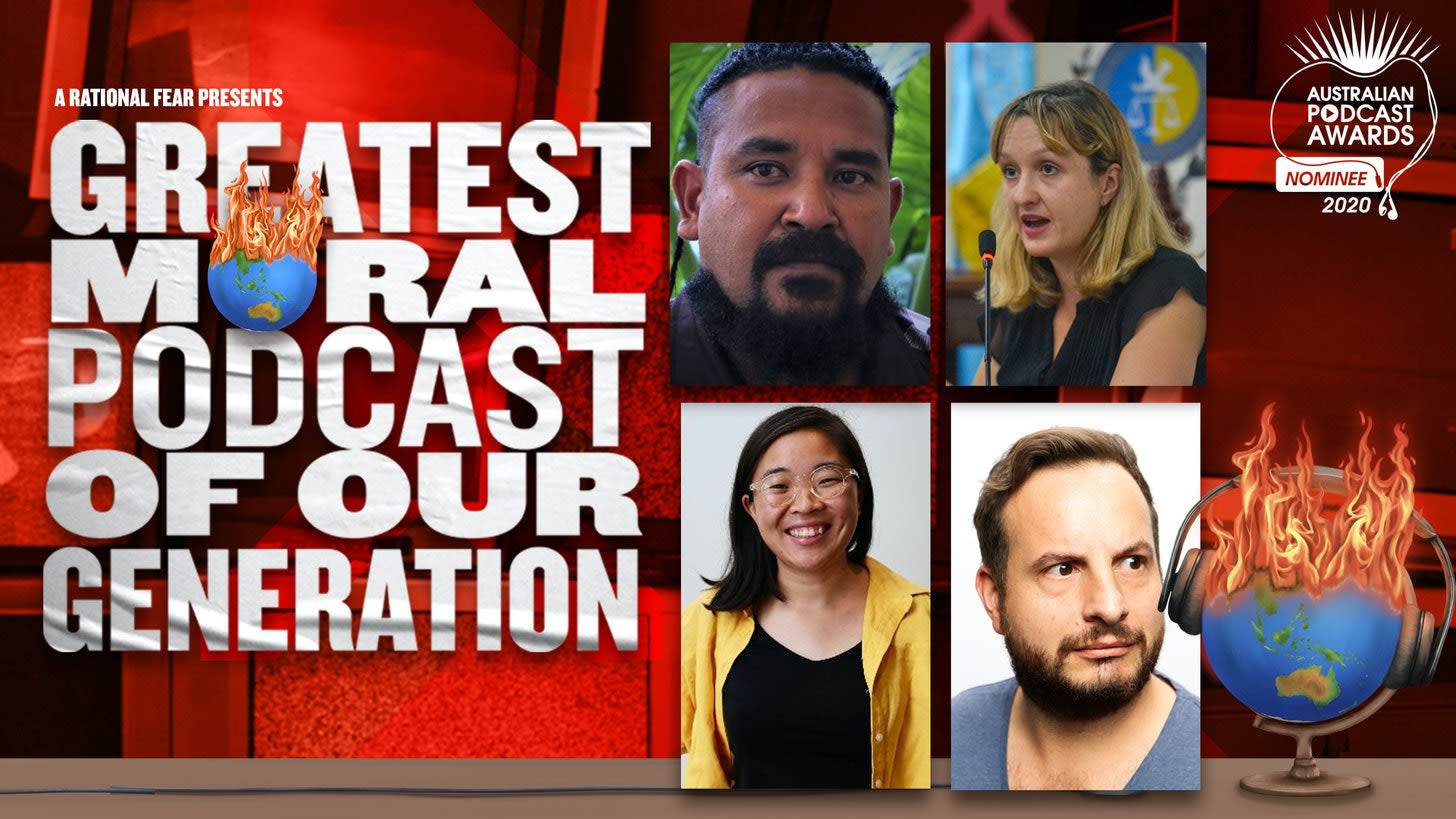 "Dan said bringing the show from metropolitan areas to the regions was important to 'give a voice to those who have been disproportionately impacted by climatic events... We wanted to have a conversation about bushfires, recovery and grief... We know there's a different story down there that we're not being told, so that's part of the reason why we're doing the show in the Bega Valley, so we can bring that story to the front and bring the grief that people are feeling to the front. Hopefully the laughter will be from catharsis." – Extract from a Bega District News article on Dan Ilic's show
Like Dan, Nigerian Bertha Investigative Journalist Fellow Abiose Adelaja Adams combined her journalism skills with a fresh approach – writing and producing the play Environmental Refugees – to communicate difficult and complex issues in a rural area at the forefront of oil extraction.
During her Fellowship year, she travelled to the oil-rich Ogoni region in the Niger Delta, where she investigated illegal oil refineries and the massive pollution they caused. The Niger Delta contributes up to 80% of the country's oil wealth, with only limited environmental protections. It has a history of devastating oil spills which have had long-term health effects on local residents, and which the international oil companies responsible have failed to pay reparations for or clean up. As unemployment has risen and promised infrastructural developments have failed to materialize, young people have turned to the illegal tapping of crude oil. The various economic interests around oil extraction in the area have in turn created instability and insecurity, including militancy and kidnappings.
During her investigations, Abiose met with many people whose lives have been shaped by the extraction of oil in the region. These include young men involved in oil refineries, women and children who spend hours at a time under gas flares drying tapioca to sell as well as residents whose livelihoods have been destroyed by oil-spill pollution. Abiose used these stories to write her script. She then travelled with the play's director and a 27-strong cast of actors and musicians to perform the play – along with ten local volunteer actors – to more than 300 residents from nearby Ogoni villages.
"It is a story that tells the scale of ecological degradation, economic deprivation and the cost of ongoing pollution in a region that makes significant contributions to Nigeria's earnings from crude oil sales. It reflects that paradox of many oil-producing communities in the Niger Delta: so endowed, yet so impoverished." – Abiose Adelaja Adams, describing her play Environmental Refugees
The play's audience received it enthusiastically, with people describing it as the first event of its kind in the area. Abiose is now exploring options to get the script produced as a film so that the Ogoni people's story may be shared more widely.
Applications for the Bertha Challenge 2023 are now open!
.
Find out more and apply here!
.
Would you like to find out more about
Dan, Linh and Abiose's Bertha Challenge projects?
Dan Ilic

Read more about his project and see his work

Click here to watch his project video
Linh Do

Read more about her project and see her work

Click here to watch her project video
Abiose Adelaja Adams

Read more about her project and see her work

Click here to watch her project video

CREDITS
Background header photo: Cast and audience members during a performance of Abiose Adelaja Adams's play Environmental Refugees. Photo: Abiose Adelaja Adams

Photo 1: Dan Ilic (right) with guests during A Rational Fear's live show in Newcastle, Australia. Photo courtesy of A Rational Fear

Photo 2: Poster promoting The Greatest Moral Podcast of Our Generation with Linh Do (bottom left) and Dan Ilic (bottom right). Poster created by Dan Ilic and Lauren Geaney for A Rational Fear.

Photo 3: Cast and audience members during a performance of Abiose Adelaja Adams's play Environmental Refugees. Photo: Abiose Adelaja Adams

Authors: The Bertha Challenge Team

Editorial Consultant: Karen Frances Eng
This story was originally published in the Bertha Climate book and some of the information in this story may have changed since it was first published.