THE BERTHA CHALLENGE
Fellowships for Activists and Investigative Journalists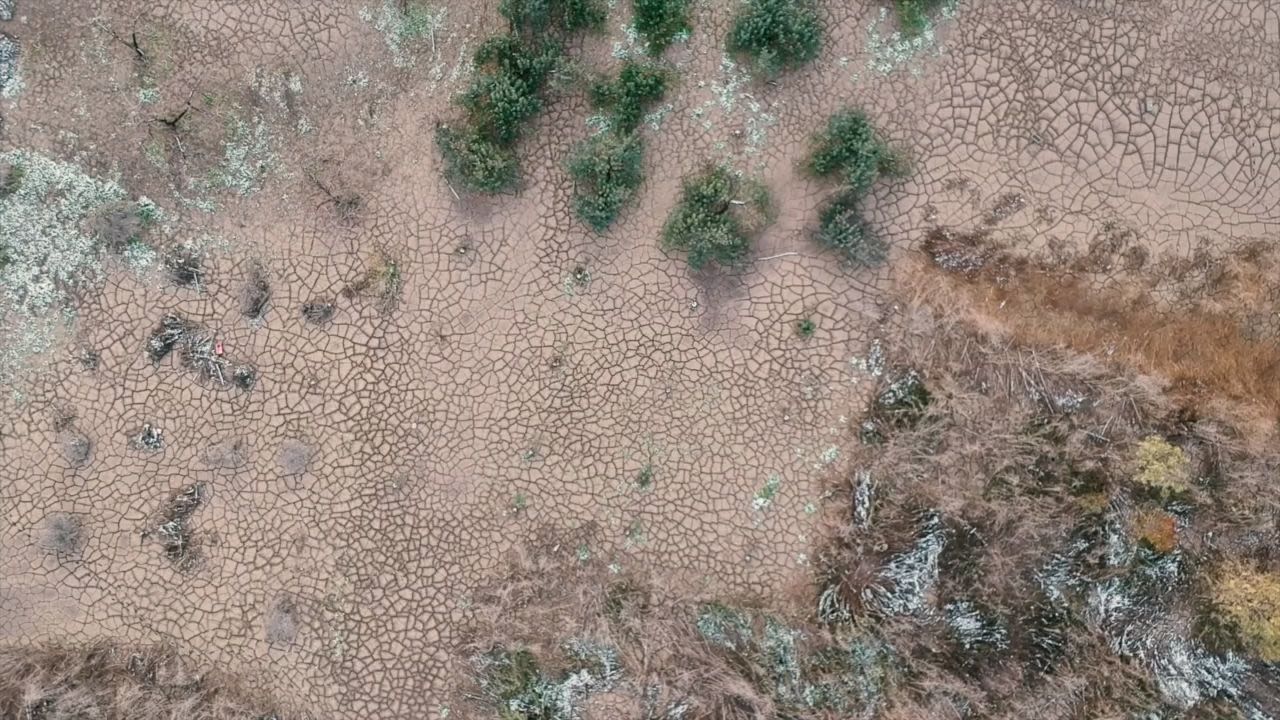 Bertha Foundation is excited to launch the next Bertha Challenge: an opportunity for activists and investigative journalists to spend a year producing a body of work that responds to one pressing social justice challenge. Successful applicants will receive non-residential paid Fellowships and project budgets to work independently and together to:

The third Bertha Challenge will begin in January 2022 with a focus on water, specifically supporting Bertha Fellows to answer the following question: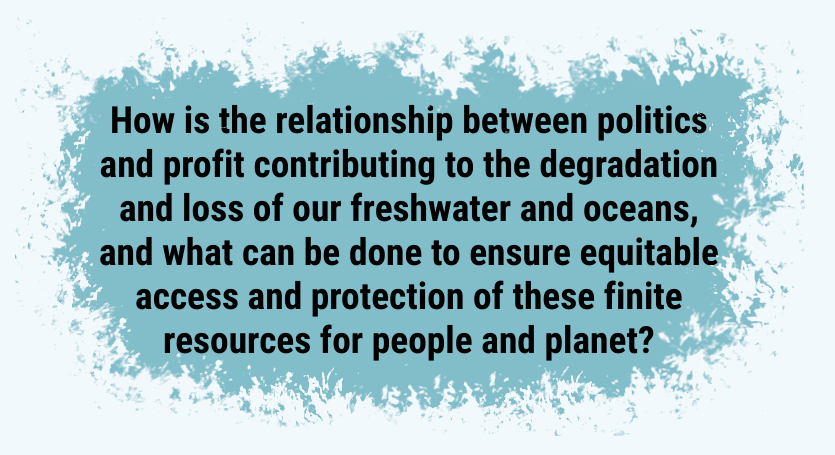 Applications open on 17 May 2021 and close on 3 July 2021. Anyone meeting the selection criteria may apply.
To read more about our current and previous cohorts of Bertha Fellows visit the main Bertha Challenge page on our website.
Why we're Choosing to
Focus on Water
An International Emergency
All 7.8 billion of us need water. We need it to drink, to produce food, to power industry; we use it to generate electricity, to manage our waste, and in countless other activities, every minute of every day, across our entire planet. We use about 10 billion tons of fresh water daily. 1
"While nearly 70% of the world is covered by water, only 2.5% of it is fresh. The rest is saline and ocean-based. Even then, just 1% of our freshwater is easily accessible, with much of it trapped in glaciers and snowfields. In essence, only 0.007% of the planet's water is available to fuel and feed people."2
The amount of water we have access to is shrinking and our population is growing - particularly in parts of the Global South where water is running out the fastest. It's estimated that in just 10 years, global water demand could outstrip supply by 40%3. Already over one billion people in developing countries don't have access to clean drinking water, with 2.7 billion experiencing water scarcity at least one month a year.4
Ten years ago the United Nations recognized clean drinking water and sanitation as essential to the realization of all human rights5. Yet, the World Health Organization estimates some two billion of us use water contaminated by faeces and in four years from now, half of the world's population will live in water-stressed areas.6
Scarcity of water has the greatest impact on the lives of women. UNICEF has calculated that women and girls spend 200 million hours a day collecting water7. This makes them more susceptible to risks ranging from illness to sexual assault while travelling long distances to find clean water and sanitation facilities.
Our limited water supplies are increasingly polluted. Every day, two million tons of sewage and industrial and agricultural waste are discharged into the world's water8 and about eight million metric tonnes of plastic ends up in the sea.9 The accelerated melting of sea ice could release one trillion plastic particles into our water system in the coming years - 200 times the amount of plastic already found in the ocean.
Meanwhile, water is treated as a commodity by states and corporations. Industry is responsible for 22% of global water consumption - which is often used to produce non-essential goods for export while local people don't have enough water to meet basic needs.10
To find the causes of and solutions to this crisis, we must go not only to the villages and cities running out of water, but to the corridors of power. Our drastically shrinking water supply is directly linked to unchecked capitalism, rapid growth and political power.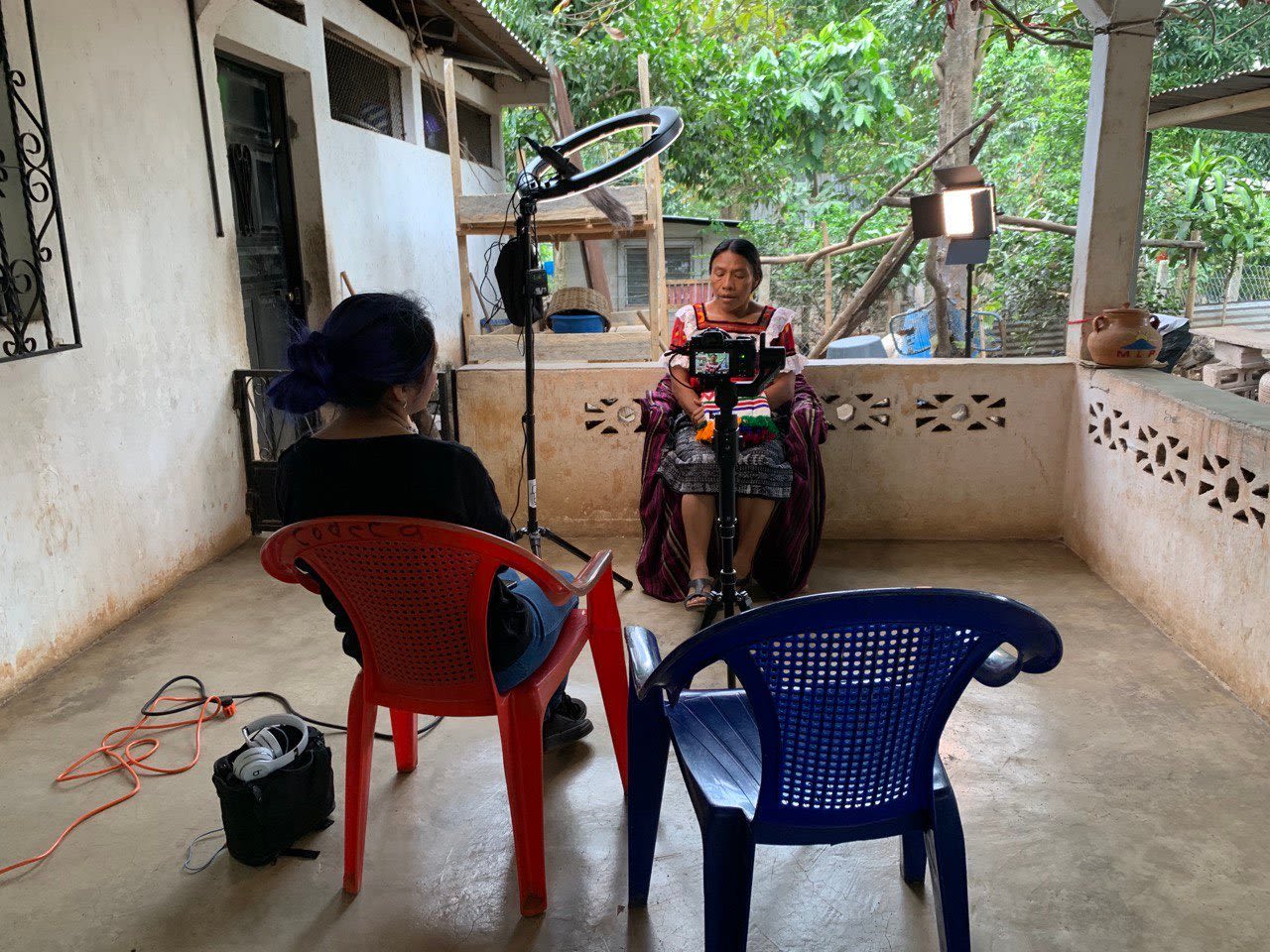 At Bertha we know that many activists and investigative journalists are already doing groundbreaking work to investigate, amplify their work and connect with each other. The Bertha Challenge aims to support this by providing time to work exclusively on a focused project, the spaces in which to connect with a diverse global cohort of Bertha Fellows and partners, and the resources to develop and deliver tangible products that speak directly to the Bertha Challenge question.
Our Fellowships offer:
Income for each Bertha Fellow for one year, not exceeding USD $62,400 and commensurate with the applicant's current or equivalent salary at the host organization - ideally a media outlet for an investigative journalist and an NGO, community organization or social movement for an activist.
A Project Fund of up to USD $10,000 for each Bertha Fellow to produce a culminating product that responds to the question posed by the Bertha Challenge, and that is directed towards a specific audience. This could be, for example, a series of articles, videos, podcasts, games or drama productions. Activists and journalists working as a pair will have the option to pool their project funding to produce projects on a larger scale.
A Connect Fund of to USD $5,000 for each Bertha Fellow specifically designed to encourage collaboration between Fellows.
Regular online discussions with topics on a range of issues from current debates around water preservation to methods of investigation, methods of communicating findings through news media, storytelling, popular education and more.
Peer and mentor support in the form of regular virtual check-ins with Bertha staff and a cohort of Bertha Fellows. 
Network development through the global cohort of past and present Bertha Fellows and exposure to relevant partners within and beyond the Bertha network, including our legal partners in the Bertha Justice Network, many of whom are at the forefront of creating legal strategies to address the climate crisis.
Global convenings of Bertha Fellows and selected guests at the start (January 2022) and end (December 2022) of the Bertha Challenge.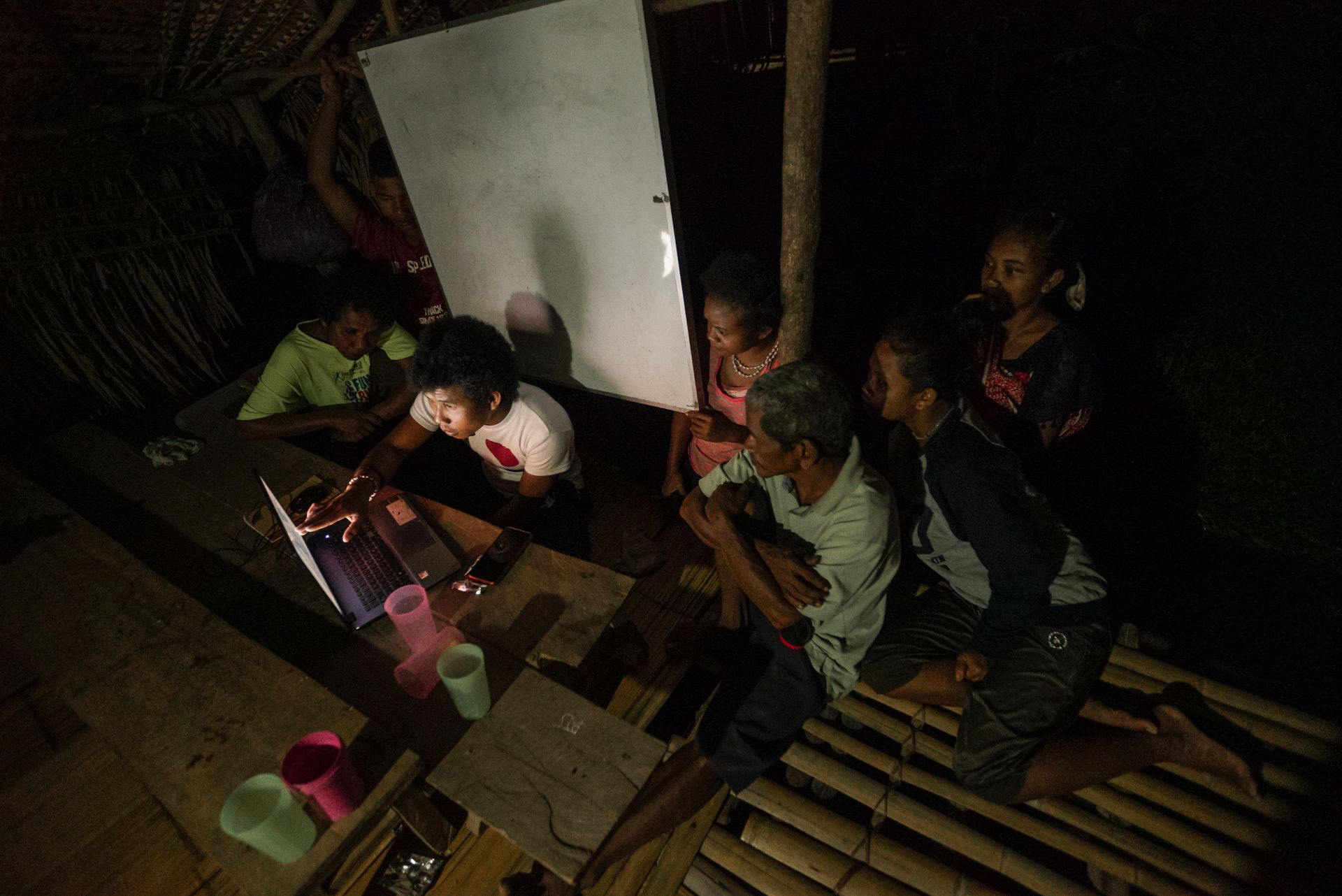 Deliverables
This is a full-time fellowship. Bertha Fellows will spend the majority of their time working in their home countries and be required to:
Attend in-person global convenings that take place at the beginning and end of the Bertha Challenge
Develop and deliver a culminating product that responds to the Bertha Challenge question
Participate in two virtual meetings per month, and occasionally facilitate these meetings
Develop local and global network relationships.
Bertha Challenge Culminating Product
It is important to find creative and scalable ways to expose and build wider awareness and critical thinking. The centerpiece of this fellowship program is the work Fellows will produce to communicate their Bertha Challenge findings. 
These products should first and foremost serve an identified target audience. For activists this might be supporters within their network, for investigative journalists it might be readers of their newspaper. We encourage applicants to be specific about the audience they intend to reach, and how they intend to do so.
We want Fellows to learn from each other's work. In addition to delivering the final product to the target audience, all final products must be presented at the Bertha Challenge closing convening. Products presented must be open source and in English. If translation is needed, this cost must be included in the Fellow's project budgets.
Guidelines on how project budgets can be spent are included in the MoU. Click here to view.
If you are invited to interview, you will be asked to deliver a short presentation on your proposed project.
Application Requirements
All applicants must submit:
A completed online application form
A brief resume/CV in English of no more than three pages
A list of 2-4 referees including name, relationship to applicant and contact details
A signed Memorandum of Understanding (MoU) from your prospective host organization - including commensurate salary and any benefits provided.
Journalist applicants are also asked to submit examples of previously published work.
Host Organizations
Fellowship applicants are required to secure a host organization in their home country to receive and administer the Fellowship award and Project Funds. Host organizations must be legally structured to receive grant funding and be able to process payroll. Host organizations must share a commitment to the Bertha Challenge objectives and conditions, and commit to publishing/broadcasting Fellows' work optimally throughout the year. 
For an investigative journalist, the host organization should be a media outlet with the capacity to distribute/publish work delivered by the Fellow. For an activist, the host organization should be an NGO, community organization or social movement.
The Bertha Fellow's salary must not exceed USD $62,400 and must be commensurate with the current or equivalent salary of the applicant at the host organization. This is to avoid creating disparity at the host organization. The host organization will be expected to make arrangements regarding tax, healthcare and other benefits, the cost of which will be allocated from within the Fellowship award. Bertha will make a contribution of 15% of the Fellowship award to cover the costs of administering the Fellowship and supporting the Fellow. A table is provided within the MoU to assist applicants in calculating the Fellowship award.  
Bertha Foundation will not interfere with the editorial autonomy of the host organization during the course of the Bertha Challenge.
Pairing Activists and Investigative Journalists 
We encourage investigative journalists and activists to apply to the Bertha Challenge jointly. Joint applicants must fill in individual applications, but make reference to their partner applicant, including where their work will overlap and how they will support one another's projects. Joint applicants have the option to pool each of their USD $10,000 Project Funds to work together on one larger project.
Individual activist and investigative journalist applications will also be considered.
Time Commitment
While we understand that applicants will have some existing obligations to the movements and organizations with which they work, this fellowship will require a full-time commitment. Both the applicant and host organization must commit to this in writing.
Important Considerations
All strategies must be non-violent. Funding may not be used for political lobbying activities. The program does not fund enrollment for degree or non-degree study at academic institutions, including dissertation research. We consider this to be a full-time commitment for the duration of the Fellowship. For this reason, it must be the applicant's only fellowship and source of income for the year.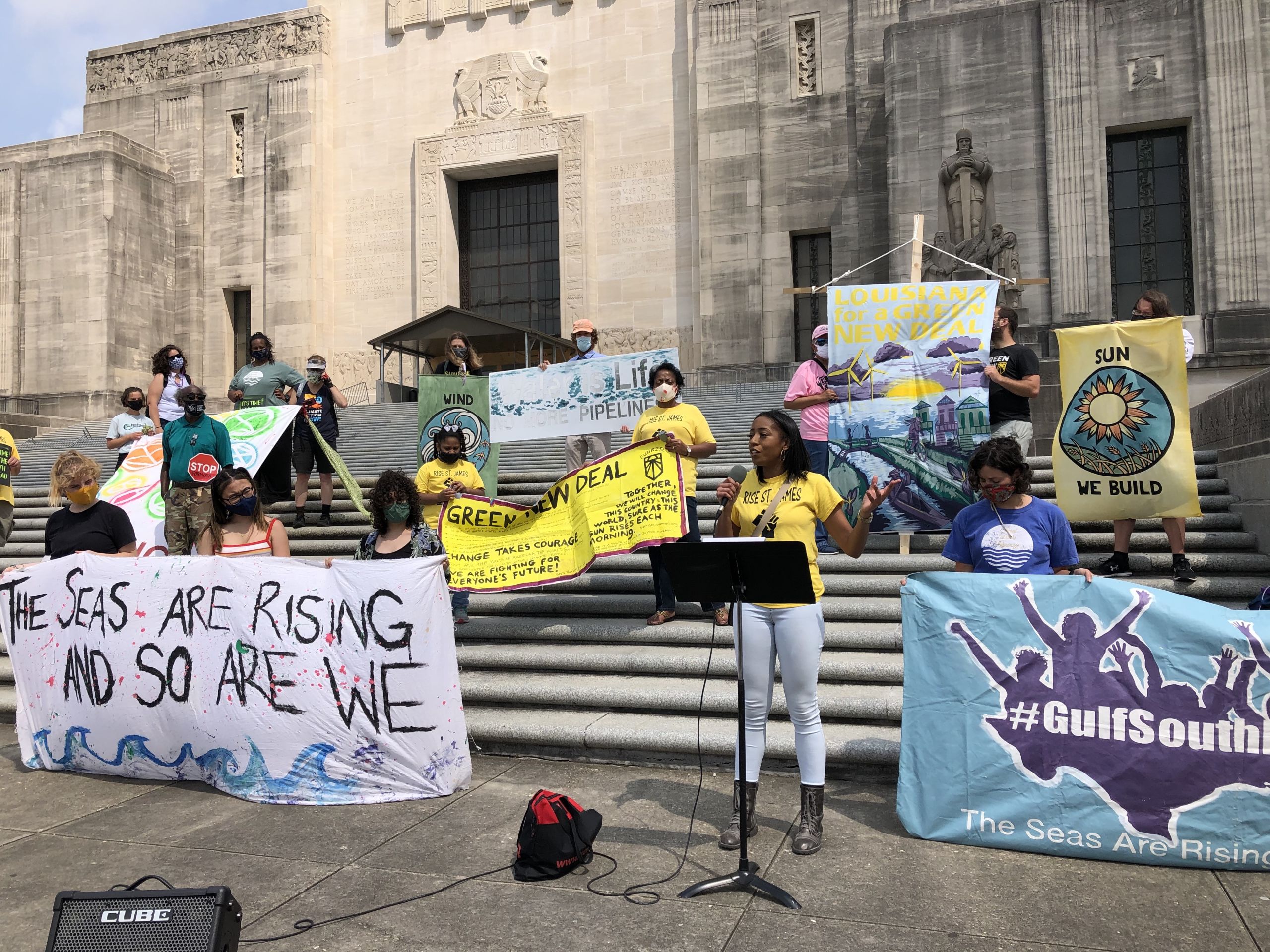 Bertha endeavours to select an inclusive and representative cohort of Bertha Fellows that celebrates diversity.

Bertha Fellows will be selected on individual merit but also on their complementary skills to the cohort, their existing and/or proposed networks and prospects for long-term impact of their work.

Applicants may come from and work in any country, but to ensure that this cohort of Bertha Fellows is able to be fully participatory, we require all applicants to be proficient in spoken and written English and able to deliver their final work in English.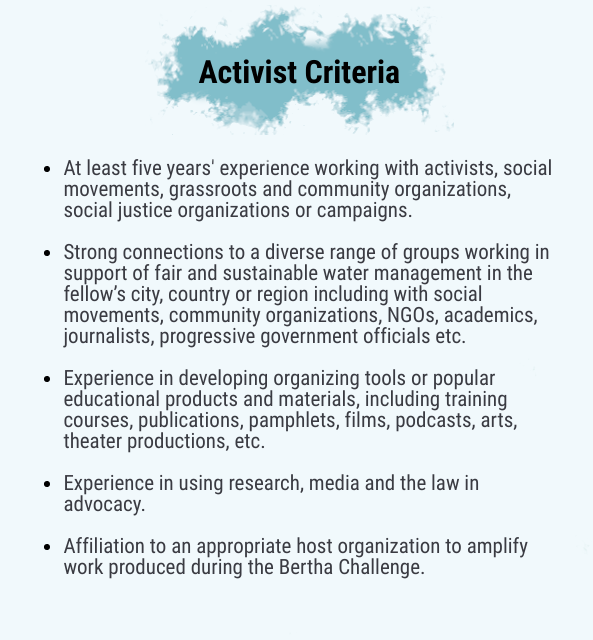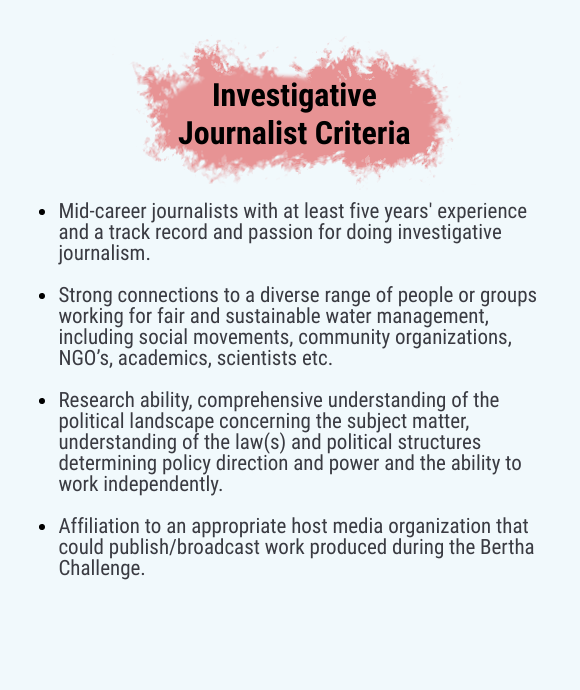 APPLICATIONS NOW CLOSED
If you have questions about the application process, please have a look at the
FAQs page.
For any further enquiries, email
berthachallenge@berthafoundation.org
.
Why Activists and Investigative Journalists?
The Bertha Challenge recognizes that investigative journalists and activists have distinct roles. This program will offer the opportunity to engage with the complexity of the water emergency while strengthening relationships through shared work on the issue. Bertha Fellows will be expected to explore new ways of working collaboratively and outside their traditional silos while maintaining their professional integrity.
Investigating and amplifying stories that expose injustice is increasingly achieved by work that cuts across organizations and professions. The scale and complexity of large investigative stories are often too intricate for one investigative journalist or activist, or even one newsroom or social justice movement, to handle alone. The Bertha Challenge will provide space for 16 mid-career leaders in their fields to develop professionally while creating compelling work on the subject matter. It also aims to fuel debate and solidify networks that will last beyond the one-year project cycle.
We recognize that activists and investigative journalists often do their work at great personal and professional risk. Global Witness reported that 212 environmental activists were murdered doing their work in 2019. The Committee to Protect Journalists has documented the deaths of 303 journalists killed while reporting on human rights stories over the last 10 years. We hope to explore ways to build solidarity and create more protections for activists and journalists through the connections and collaborations made during the Bertha Challenge Fellowship year.
Like never before in humanity's history, we live in times of overlapping crises. After decades of governments and industry ignoring science about climate change, finally, the world seems to be waking up to the fact that business as usual is no longer an option. Our climate and all people living on earth are in deep crisis and unless there is systemic change, billions of us - especially in the Global South - are facing certain catastrophic problems within the next ten years. A challenge on this scale requires collaborative and interdisciplinary action.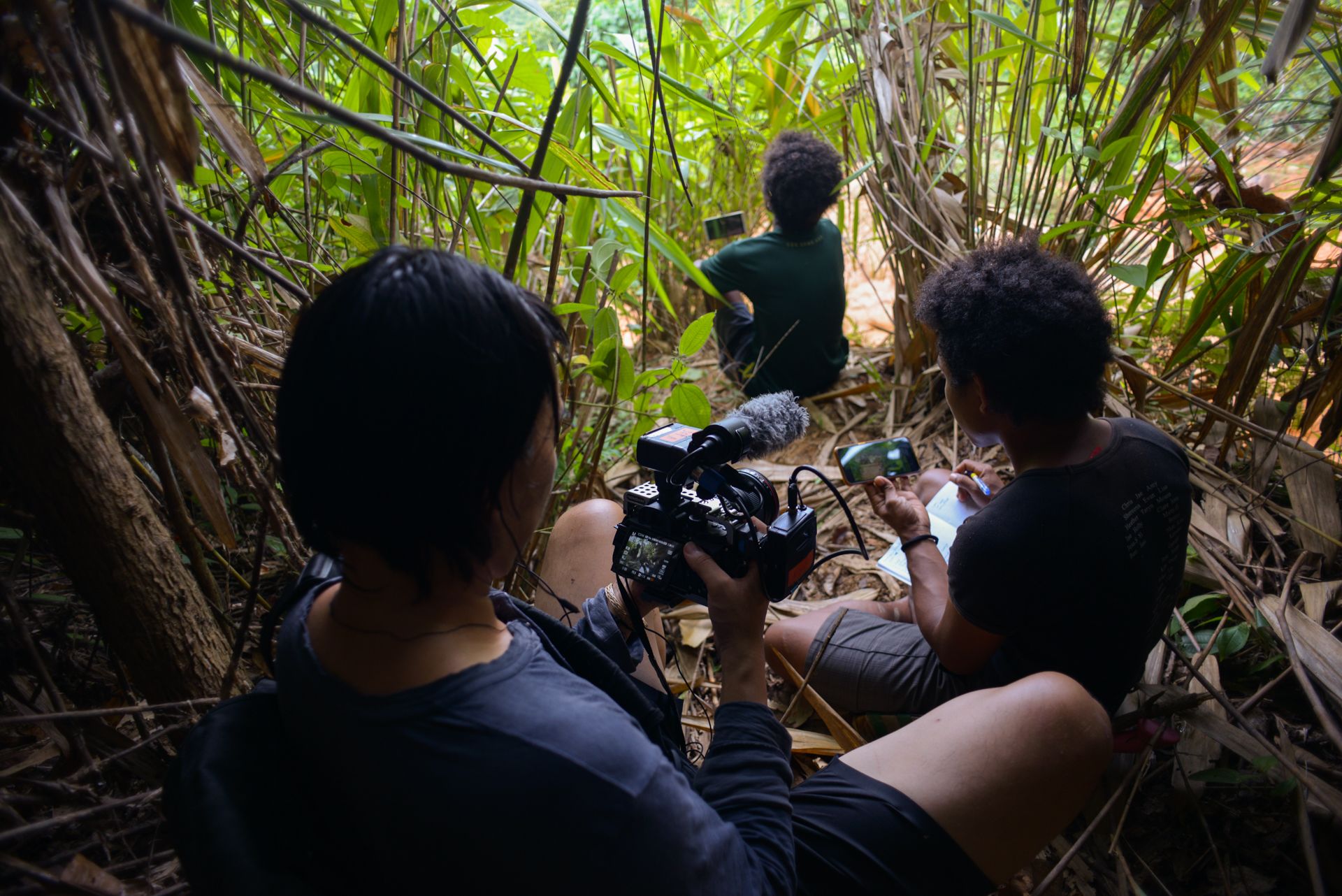 About Bertha Foundation
Bertha Foundation supports activists, storytellers and lawyers who work to bring about social and economic justice and human rights for all. This program supports activists and investigative journalists to work together. In addition, successful applicants will join Bertha's international network of highly skilled lawyers. The Bertha Challenge creates opportunities for activists and investigative journalists to amplify and accelerate their work in support of climate justice. Fellows are integral to the Bertha network and the sixteen selected activists and investigative journalists will act as bridges across regions to strengthen and embolden this important work.

CREDITS
In order of appearance:

Video Credits: Tetsuaki Baba from Pexels, Esa Alexander,  Kelly Lacy from Pexels, No North Brooklyn Pipeline Coalition
, Pearlie Joubert.



Photo credits: Federico Zuvire, Federico Zuvire, Yasna Mussa, Elroi Yee, Federico Zuvire, Antonia Juhasz, Puah Sze Ning.