We, the members of the Bertha Justice Network, a global network of human rights and movement lawyering organizations working in pursuit of social justice, are observing with the greatest concern the situation in the Gaza Strip in Palestine, and in particular the recent attacks by Israeli military forces on entirely peaceful demonstrations by Palestinian people in the Gaza Strip, which resulted in the willful killing of at least 29 and injury of thousands more during the Great March of Return demonstrations at the Gaza fence since March 30th.
Those killings and injuries were ordered and approved in advance by the highest Israeli political and military echelons and the use of intentional lethal force took place outside the conduct of hostilities.
Israel has the legal obligation to respect the human rights of the Palestinian people, including the right under international law to peacefully demonstrate for the commemoration of the Nakba, end of siege on the Gaza Strip and enjoyment of the right of return, and that the recourse to disproportionate force to disperse the demonstrators amounts to crimes under international law.
We observe that the Great March of Return protests are occurring in the context of the choking closure of Gaza Strip that has been imposed by Israel for 11 years in blatant violation of international law; the closure results in the denial of fundamental rights, including the freedom of movement, to the two million Palestinians of Gaza, which amounts to the crime against humanity of persecution and other crimes under the jurisdiction of the International Criminal Court (ICC).  It has caused enormous human suffering, by depriving Palestinians of food, water and other basic necessities, intentionally imposing a state of unsustainable hardship and humiliation on the 2 million Palestinians residing in Gaza.
We urge the Prosecutor of the ICC to move without further delay from the preliminary examination stage to open a formal investigation into the situation in Palestine, including the latest crimes in Gaza.
We further call upon the international community to ensure that Israel respects the rights of the Palestinian people in Gaza, including their right to peaceful assembly and protest, and finally ends the regime of illegal closure and occupation.
Bertha Foundation
Bureau des Avocats Internationaux (BAI), Haiti
Center for Constitutional Rights (CCR), USA
Center for International Law (Centerlaw), Philippines
Colectivo de Abogados "José Alvear Restrepo" (CAJAR), Colombia 
EarthRights International (ERI), USA, Peru, Thailand, and Myanmar
Equal Education Law Centre (EELC), South Africa
European Center for Constitutional and Human Rights (ECCHR), Germany 
Foundation for Fundamental Rights Pakistan (FFR), Pakistan
Institute for Justice and Democracy in Haiti (IJDH), USA 
Legal Resources Centre (LRC), South Africa
Palestinian Center for Human Rights (PCHR), Occupied Palestinian Territory 
Proyecto de Derechos Económicos, Sociales y Culturales, A.C. (ProDESC), Mexico 
Socio-Economic Rights Institute of South Africa (SERI), South Africa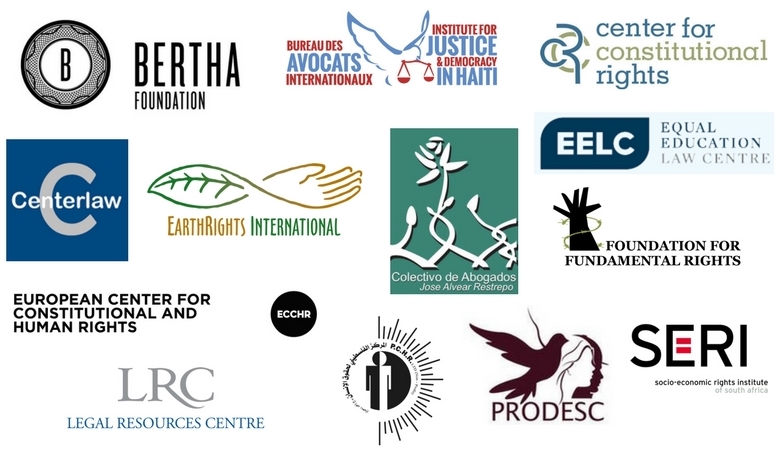 Article Tags: BAI / Bertha Justice Initiative / Bertha Justice Network / CCAJAR / CCR / Centerlaw / ECCHR / EELC / End the Occupation / FFR / LRC / PCHR / ProDESC / SERI