The Battle for Narrative:
Using Film and Digital Media to Advance Human Rights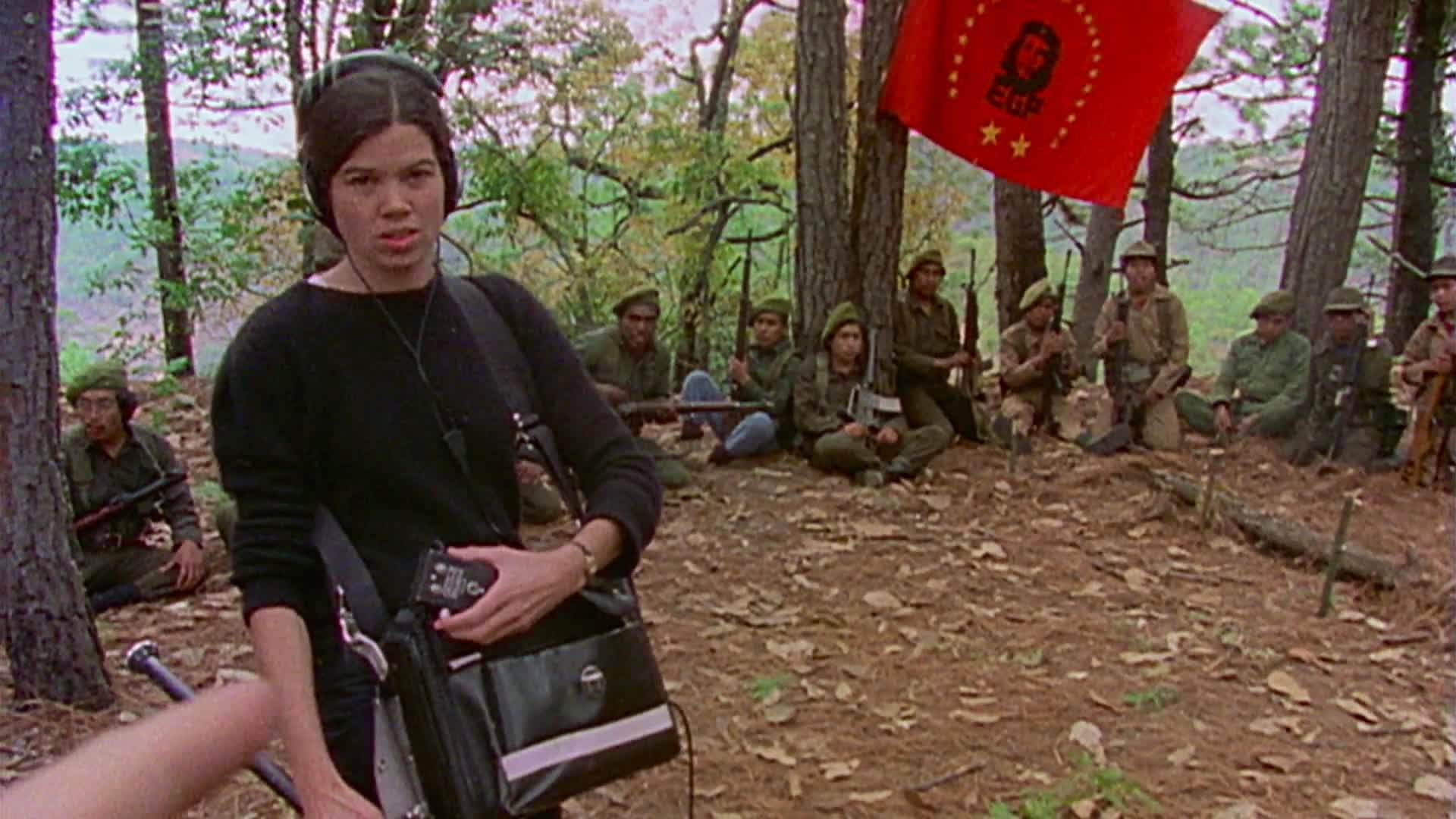 Bertha Foundation supports activists, storytellers and lawyers working to bring about human rights for all. We believe that social change can happen effectively when these groups and individuals come together to work on a common issue.
Many organizations that Bertha supports hold a similar belief about how change happens. Skylight develops tools to expand the use of media for human rights and social justice. They believe that networks of filmmakers and artists working with activists can shift cultural perceptions, strengthen democratic values and drive positive social change. It is this shared vision that has served as the foundation for our partnership with Skylight. This impact report illustrates how Bertha and Skylight have worked collaboratively to achieve maximum impact.
Skylight Overview
For over 30 years, Skylight has been producing artistic, challenging and socially relevant media focused on amplifying the voices of constituencies battling for social justice and their rights. Their approach entails forming deep partnerships with organizations and change makers and working systematically with those partners to build media ecosystems: collections of dynamic media and digital tools ranging in content and length that work to strengthen human rights narratives. The feature-length documentaries they produce are the hubs and the emotional heart of these ecosystems, catalyzing a wide range of media products that are developed and utilized by their movement partners.
Skylight recognizes that with the advent of new technologies and digital storytelling - and the changing tactics of social movements - battles for narrative are being intensified. They respond to this by telling stories that inspire. By showcasing human rights victories such as putting dictators in prison, they highlight the strategies and people power we can all harness when faced with authoritarianism.
"After dictatorships started to fall in Latin America where I grew up, I saw how this was heavily centered on lawyers and people. Lawyers created legal precedents in groundbreaking cases where dictators were actually put in prison. The role of law in human rights is really apparent. The stories we tell as filmmakers have to look at the law. In some cases, footage can even be used as evidence, as was the case when our footage was used as evidence in the genocide trial against Ríos Montt."
- Paco de Onís, Executive Director, Skylight
A short film on Skylight's work
A short film on Skylight's work
OUTREACH SUPPORT:
Granito: How to Nail a Dictator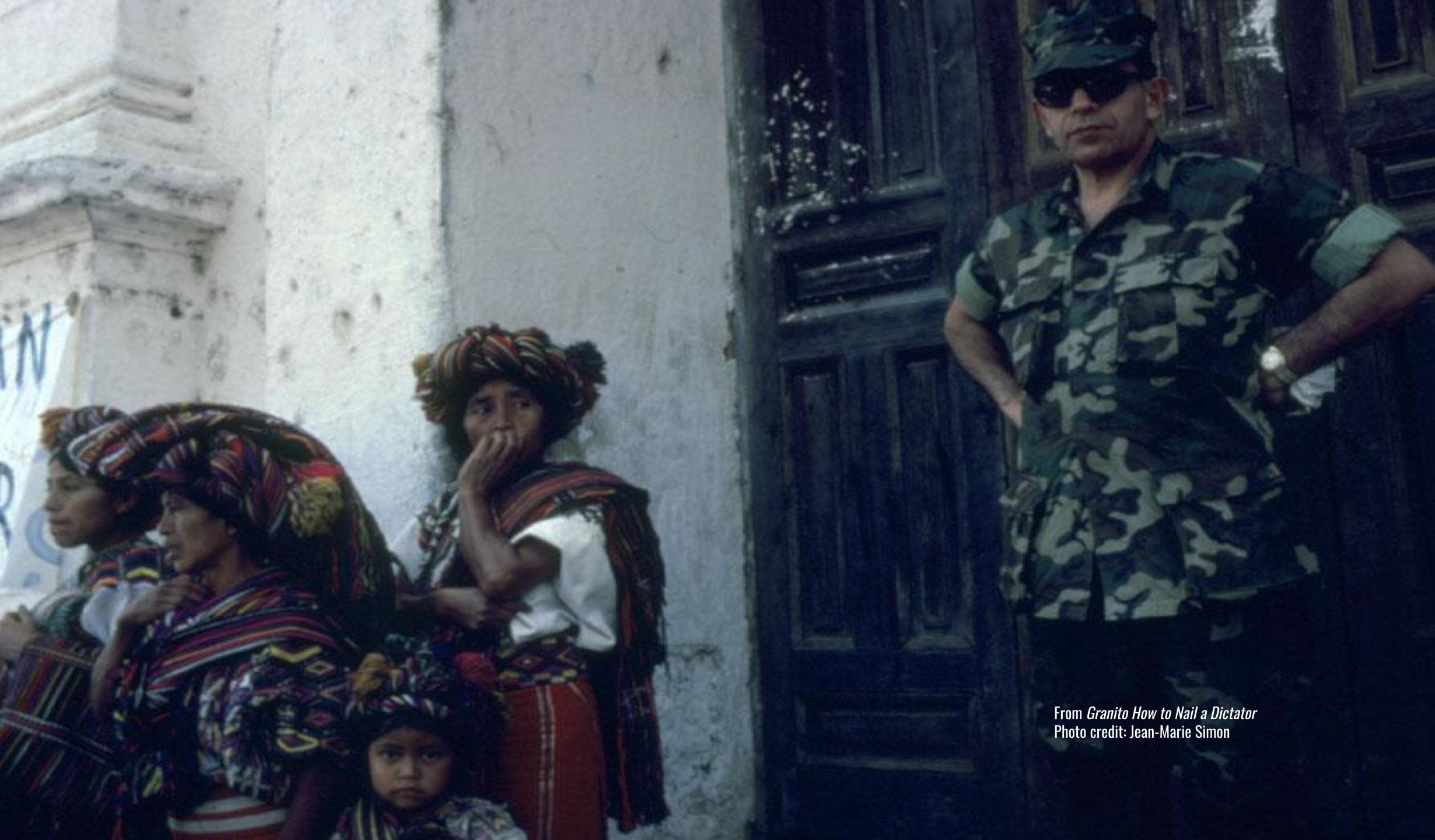 At the 2011 Sundance Film Festival, as Bertha was beginning to establish its Social Impact Media Portfolio, the team saw the Skylight film Granito: How to Nail a Dictator. Part political thriller, part memoir, Granito tells the extraordinary story of how director Pamela Yates' 1983 documentary, When the Mountains Tremble, provided key evidence for bringing the indictment for genocide against former dictator General Efraín Ríos Montt, who led the brutal war against Guatemala's Mayan people in the 1980s. Weaving together the story threads of seven protagonists over 30 years, each add their own 'granito' - their tiny grain of sand - to Guatemala's fight to bring a dictator to justice and give the Mayan people their day in court.
Granito is a perfect example of how a film team with a smart and strategic plan can use an inspiring documentary about community organizing as a tool. Granito was the first impact campaign Bertha supported, the goal being to bring the film back to Guatemala where it belonged. Bertha's funding went to supporting the premiere of the film at the National Theater in Guatemala City, the creation of two different Mayan language versions of Granito and the development of a multimedia oral history project.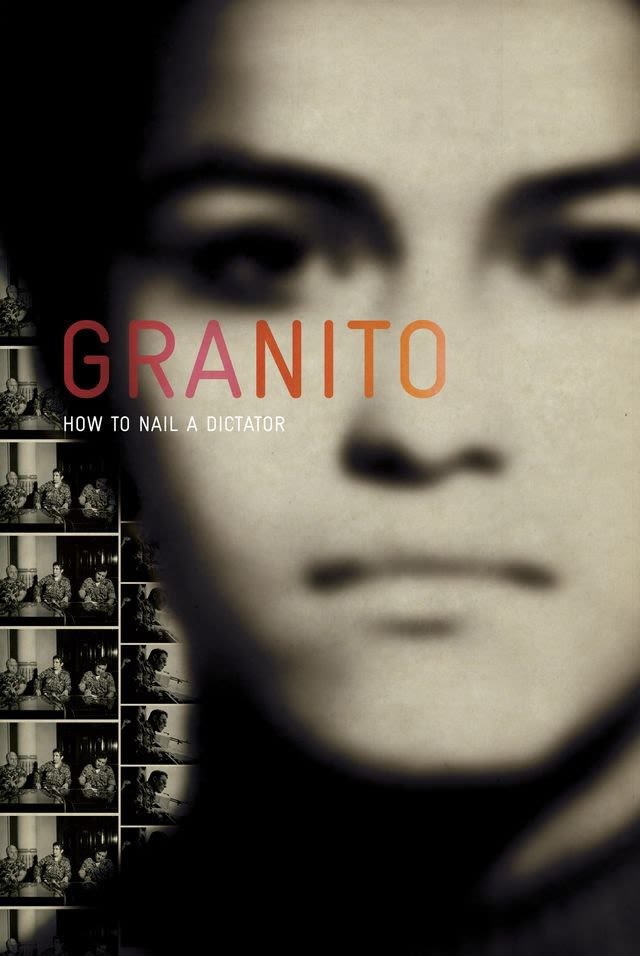 Granito: How to Nail a Dictator trailer
Granito: How to Nail a Dictator trailer
Guatemalan Premiere at the National Theater
The Skylight team strategically delayed screening Granito in Guatemala until March 1, 2012, after the country's presidential elections had concluded. Had the film been released during the presidential campaign, the team were advised it could have been seen by opponents as a political ploy by candidate Rigoberta Menchú, a Mayan-K'iche' Nobel Peace laureate and human rights defender, who is featured in the film. Once the electoral season was over, they secured the 2,000 seat National Theater for Granito's theatrical premiere. Tickets were free of charge and all were distributed within two hours of being released. The film played to an overflowing house and the audience gave a standing ovation which continued while Pamela Yates introduced the cast and film team. Guatemalans had embraced the film, and so began the journey of Granito into the fabric of Guatemala's historical memory.
Language Translation
Translating the film into Mayan, the most spoken language family in Guatemala made up of over 22 languages, was a vital step to ensuring that the the film would be as widely accessible as possible, particularly by the communities featured in the film. Skylight partnered with the Academy of Mayan Languages in Guatemala to translate the film into Ixil, K'iche' and Tz'utuhil languages. Skylight also recognized that all the translations would need to be spoken, as many audiences they sought to engage had never been to school and would not be able to read subtitles. The lessons learned from making the Ixil and K'iche' versions helped Granito create a working template to support the translation of the film into the remaining Mayan languages. Members of these teams have since been inspired to translate other important documents from the genocide trial into Mayan languages.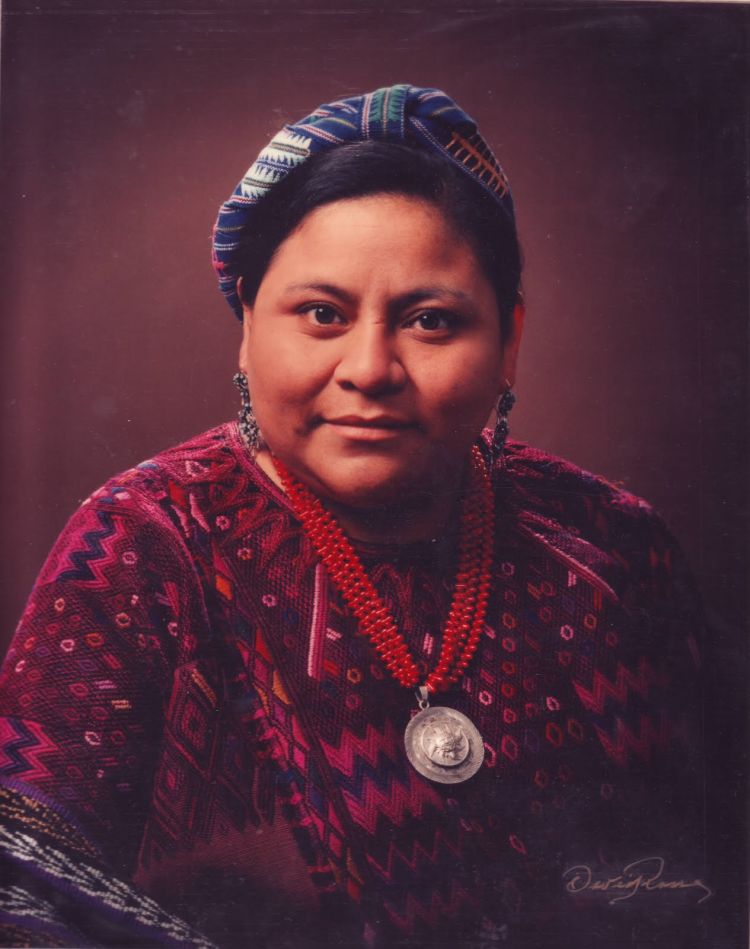 Granito: Every Memory Matters
The outreach work around Granito served as proof of concept for Skylight's vision of creating human rights media ecosystems. In addition to the translated versions of the film and in recognition of the importance of capturing historical memories, Bertha's funding went to support the creation of a multimedia oral history project called Granito: Every Memory Matters (GEMM). GEMM has been created as an intergenerational, interactive public archive of memories intended to further expose the history of the Guatemalan genocide. GEMM aims to harness the power of storytelling and create an exchange that awakens and restores the collective memory of Guatemala's recent past which claimed the lives of more than 200,000 people, 45,000 of whom were "disappeared."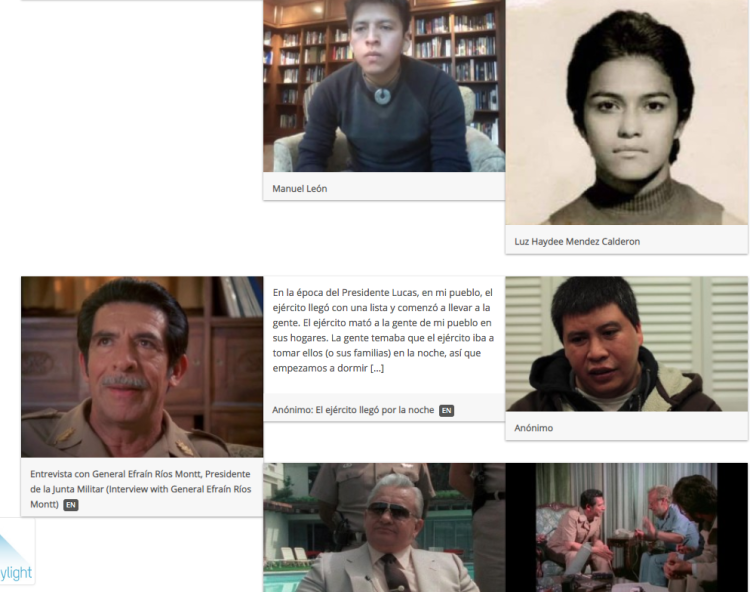 Anyone with a memory or story to share can contribute using simple media tools. These memories, when brought together, form a collective narrative that will combat el olvido - the purposeful forgetting that bolsters a culture of impunity - and inspire a more hopeful future. Says Yates, "We hope to begin a conversation across the generations to take away the fear of talking about the genocide."
A short film on Granito's impact by Doc Society (formerly Britdoc)
A short film on Granito's impact by Doc Society (formerly Britdoc)

PRODUCTION SUPPORT:
Dictator in the Dock & 500 YEARS

"Because Bertha has consciously made an effort to be flexible in our grantmaking, when opportunities arise that are time sensitive, our structure enables us to move a grant through rather quickly. This is what happened when we were approached by Skylight for funds to film the trial of Ríos Montt, which turned into the web series Dictator in the Dock."  

 - Rebecca Lichtenfeld,
Director, Social Impact Media, Bertha Foundation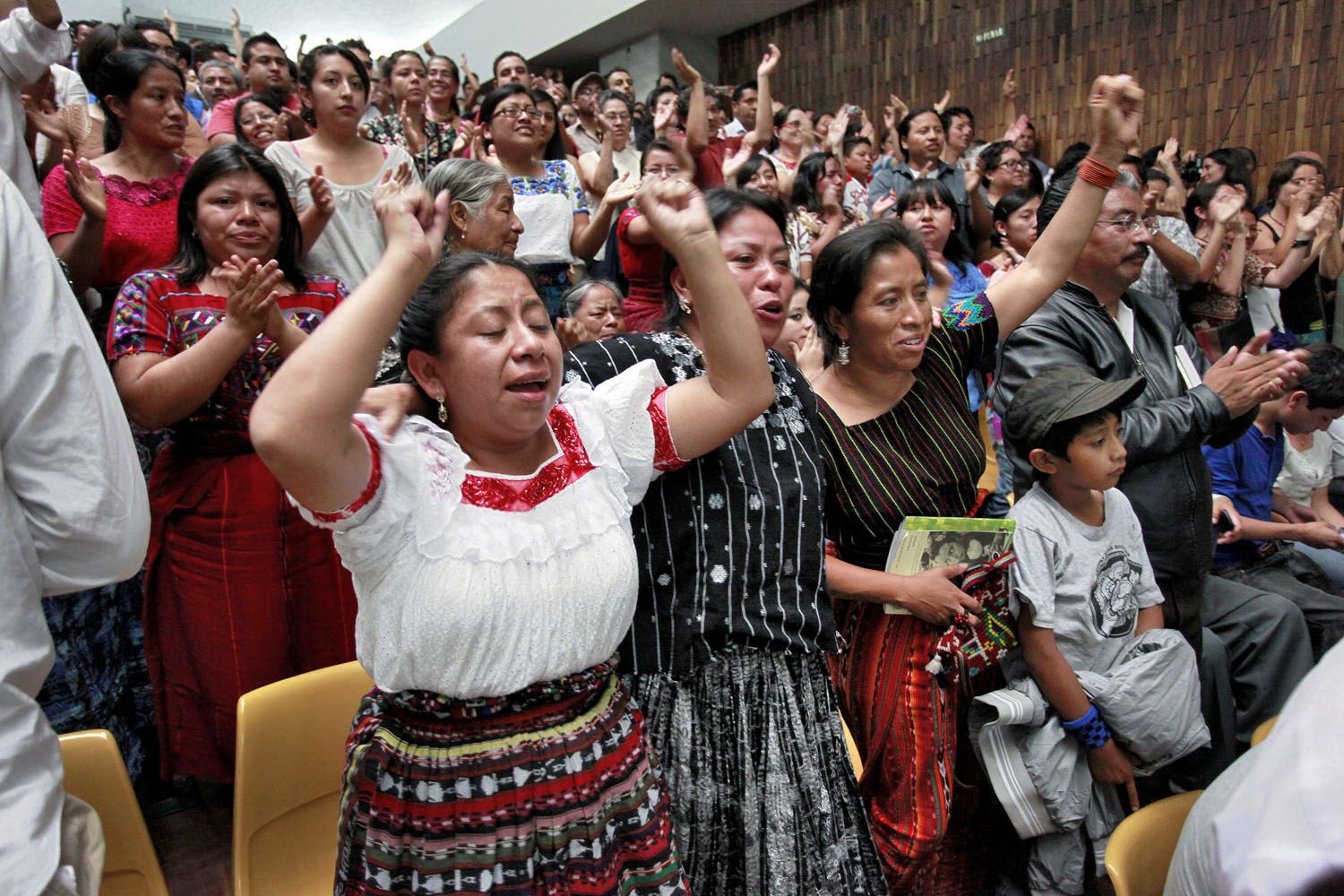 Dictator in the Dock
As a result of the movement generated by indigenous Mayan survivors, Dictator Ríos Montt was arrested. When he went to trial in 2013, there was an opportunity to film it. When the trial unexpectedly began three months ahead of schedule, Skylight quickly pulled together a volunteer film crew and contacted Bertha, knowing we understood the importance of documenting the events.
This was the first trial of a perpetrator accused of genocide against indigenous people anywhere in the world. Skylight was so embedded in this case that they were able to submit an interview from 1982 with Ríos Montt that featured in When the Mountains Tremble during which Ríos Montt claims command responsibility of his troops. This was used as evidence in the genocide trial.
"For a funder to recognize the importance of the trial immediately allowed us to throw the doors of the courtroom open to the entire world by uploading filmed highlights every two or three days." - Pamela Yates, Creative Director, Skylight
Skylight's team filmed the entire Ríos Montt trial - "gavel to gavel" - and released highlights online every few days, in addition to the 23 webisode Dictator in the Dock series which they edited while the trial was ongoing. This provided transparency of the judicial process and was highly viewed content. The webisodes were re-published on the sites of several other organizations such as Open Society Justice Initiative, Guatemala's Center for Human Rights Legal Action (CALDH). The series was distributed online and on the ground for free.
The footage that Skylight captured helped counter a narrative that emerged after Ríos Montt was found guilty, where his supporters declared that the judge was biased. Bertha's ability to provide flexible funding allowed Skylight to seize a time sensitive opportunity. Without this support, the trial could not have been fully documented by Skylight nor would they have been able to release the content so quickly online.
Trailer for the web series Dictator in the Dock
Trailer for the web series Dictator in the Dock
500 YEARS & The Resistance Saga
The filming of Dictator in the Dock and the launch of the web series led Skylight to begin development and production on 500 YEARS, which would be the final film to complete their trilogy on Mayan indigenous resistance in Guatemala: The Resistance Saga. Following When the Mountains Tremble (1983) and Granito: How to Nail a Dictator (2011), 500 YEARS tells the story of the movement in Guatemala that led from Ríos Montt's genocide trial to the popular movement that toppled sitting President Otto Pérez Molina, from the perspective of the majority indigenous Mayan population. The film explores their struggles in the country's growing fight against impunity through focusing on universal themes of justice, racism, power and corruption. Bertha funded 500 YEARS through the Bertha Doc Society Journalism Fund, recognizing its importance as a film that would interweave themes of justice and the power of social movements.
500 YEARS premiered at Sundance Film Festival in 2017, at a moment when audiences were in deep need of stories that focus on successful global resistance. The resilience of the Mayan people shown in the film continues to inspire and energize, with screenings planned around the world all the way through 2018.
"Exactly a year after the premier of our feature-length documentary film 500 YEARS at Sundance, we had an extraordinary debut of the film in Guatemala, where we experienced one of those moments when a film and history rhyme."
- Pamela Yates, Creative Director, Skylight
Led by their Mayan outreach partners and the protagonists of the film itself, Skylight spent the first year after 500 YEARS' launch on an international film tour to build support and to mitigate potential attacks from the Guatemalan right wing. When the film finally premiered in Guatemala, audiences were reinvigorated in their fight for justice against the authoritarian regime of President Jimmy Morales. By seeing themselves and their fellow citizens on screen - taking the Central Plaza in 2015 to bring down a corrupt president - they were reminded of their power. The demand to see the film was huge, filling theaters with up to 1500 capacity and accommodating overflow crowds. Skylight created an online form for NGOs, institutions and schools to request the film free of charge, as well as later producing a film guide for educators, downloadable here. They also strategically decided to give the film to Guatemala's biggest bootlegger so that dozens of unofficial screenings could continue to happen all over Guatemala, inspiring and strengthening resistance in those who would not otherwise access the film.
Skylight's goal in Guatemala is for the film to be used as a motivating force for intergenerational organizing from indigenous and urban sectors to bring about fundamental change, including reform that would incorporate indigenous rights in a new constitution.  
"Once 500 YEARS was made and The Resistance Saga was complete, Skylight wanted to take the film to relevant audiences and use it as a tool. It's important to Bertha to not only help get content made but also to help that content reach the eyes of the people who need to see it for specific changes in policy, practice and hearts to happen."
- Rebecca Lichtenfeld, Director, Social Impact Media, Bertha Foundation
The Resistance Saga is a day-long cinematic and artistic touring event designed to galvanize audiences to fight back when society is faced with authoritarianism and demagogues. It aims to engage audiences in a dialogue about the role that the arts and law can play in creating, strengthening and communicating narratives of nonviolent resistance. The event includes a forum facilitated by the Mayan women protagonists of the films and activist lawyers who can converse with the social movements that partner with the tour.
The premiere of The Resistance Saga took place at Bertha DocHouse in the UK, a Bertha supported cinema screen dedicated solely to documentaries.
Watch the Q&A from Bertha DocHouse's premiere of the Resistance Saga.
Throughout The Resistance Saga tour, Skylight has been able to collaborate with immigration activists, women's rights groups, the movement for black lives and indigenous movements. Skylight has found particular resonance screening the films for the immigrant rights movement and The Resistance Saga is becoming a frequently used tool for organizers in different U.S. cities.
GENERAL OPERATING SUPPORT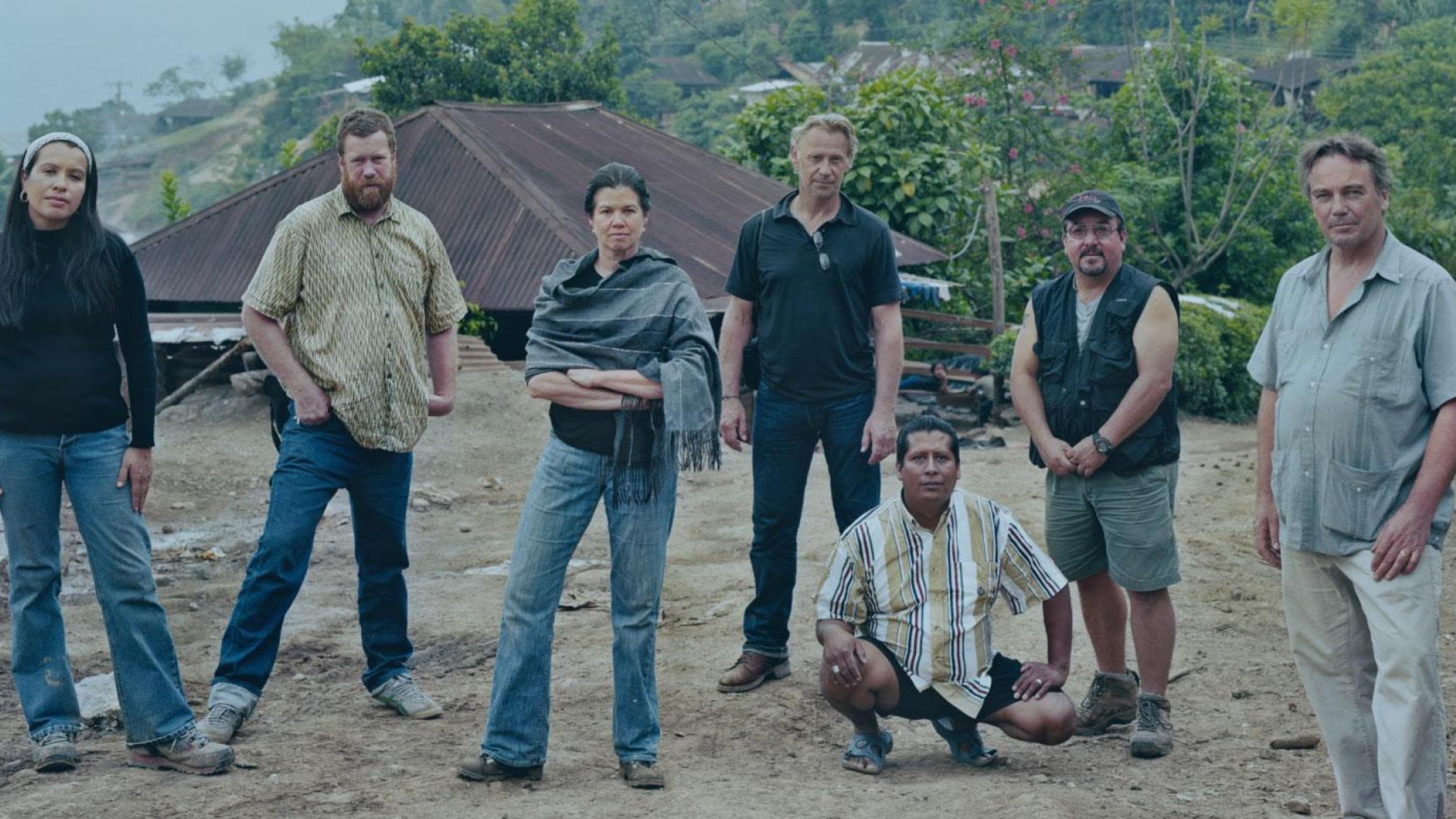 Building on our existing relationship and in response to Skylight's particular project needs, Bertha began providing general operating support to Skylight as an organization in 2014. When possible, Bertha believes providing general operating support to organizations allows them to strengthen their internal structures and be more sustainable and reliable entities. For organizations, this core funding means a solid institutional floor so that they can exercise creativity and flexibility.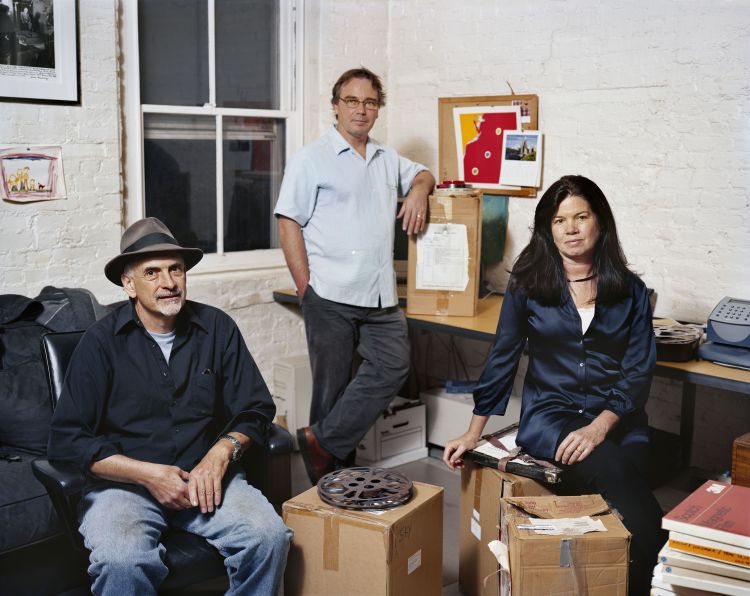 Pamela Yates, Paco de Onis and Peter Kinoy (Skylight's three founders)
"Thanks to the core funding we received from Bertha Foundation and Open Society Foundations, we've been able to greatly increase Skylight's capacity by adding key staff positions allowing us to expand our programming activities beyond the production of films and companion outreach and engagement campaigns. Core funding has been and is an essential component for the advancement of Skylight's mission, allowing us to plan and develop new programs to expand the reach of our theory of change. Programs like SolidariLabs, which was designed to strengthen collaborations between filmmakers creating inspirational narratives, working with movement actors and justice seekers to advance positive social change and strengthen human rights. In these fraught times, as we face a global trend of governments and corporations using destructive narratives to criminalize dissent and turn public opinion against a culture of rights, we need more than ever to bring forth alternative narratives that engage the public and provide inspiration to battle those trends. That is our work."- Paco de Onís, Executive Director, Skylight
Watch a video on Solidarilabs here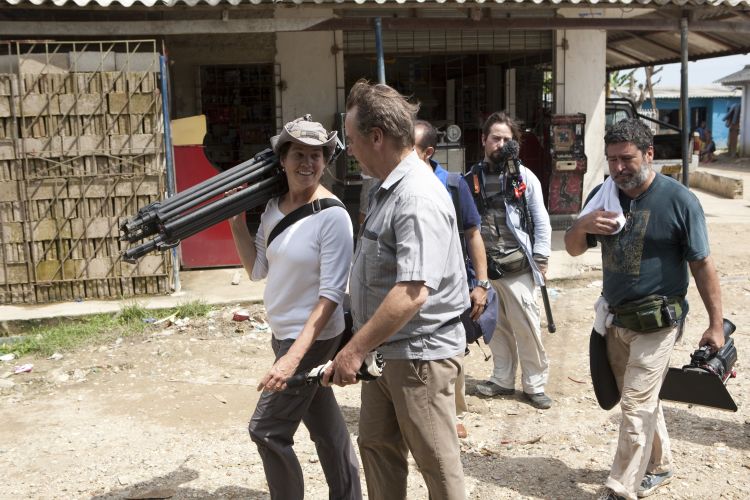 Paco and Pamela working in the field
CAPACITY BUILDING & TRAINING SUPPORT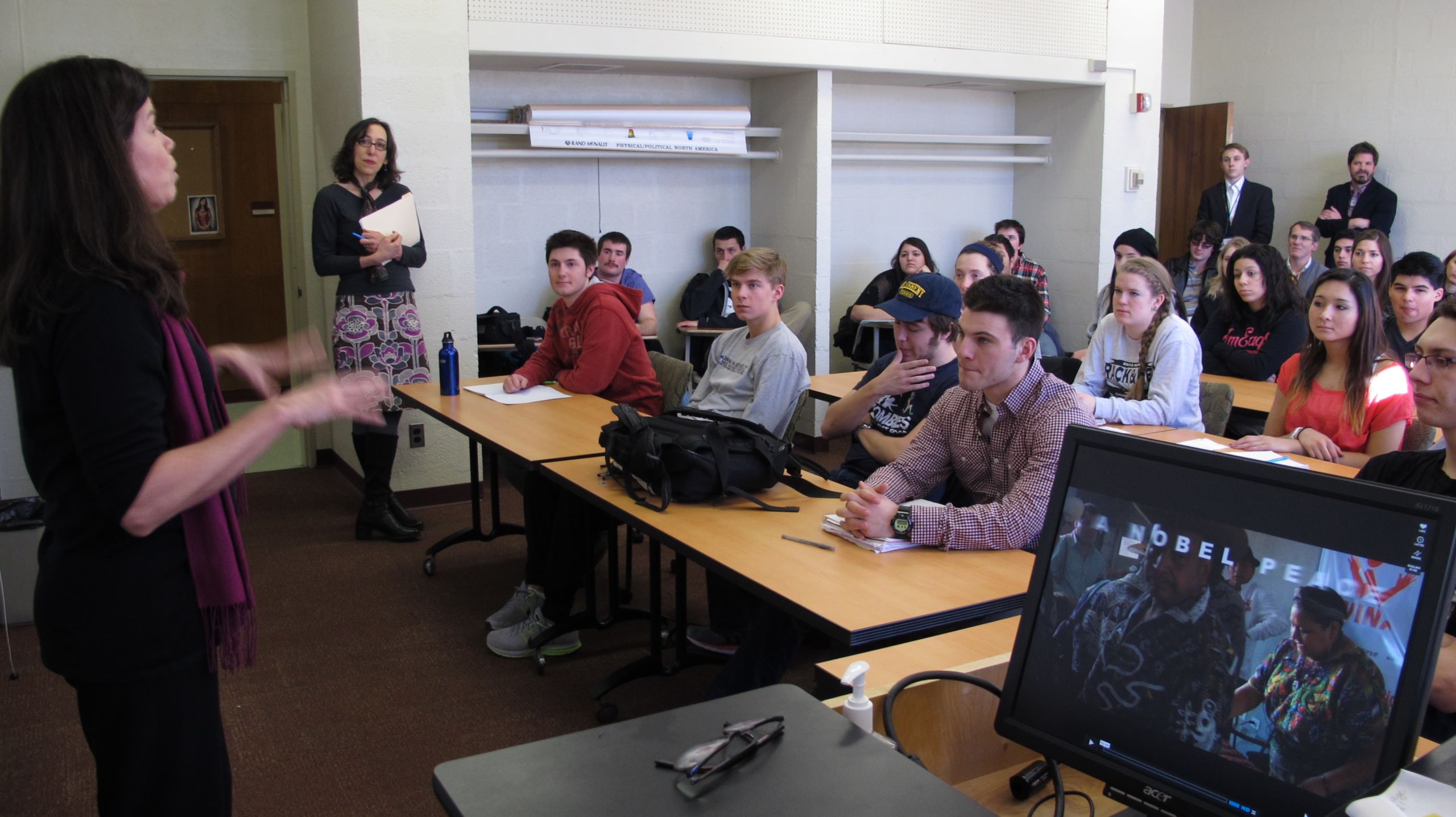 Skylight also helps Bertha realize our Theory of Change through operating training activities for organizers and lawyers embedded in social movements. They have conducted human rights media workshops at various Bertha convenings and retreats.

Sessions at the Bertha Justice Global Convening
In 2014, Bertha held its first ever Bertha Justice Global Convening for Bertha Justice Fellows in Cape Town. The Global Convening seeks to facilitate a sense of solidarity and cohort across the Bertha Justice Network, while providing learning opportunities, inspiration and encouragement for Bertha Justice Fellows' long-term engagement in social justice and movement lawyering. Each year, several media practitioners in the Bertha network participate in the convening to present their work to the Fellows and the senior lawyers of our Bertha Justice Partner organizations.  
Pamela and Paco attended the 2014 convening to lead a workshop on their work and screen Granito in partnership with fellow Bertha media grantee, Encounters South African Documentary Film Festival. They were able to meet with the Bertha Justice Fellows to share skills, learn from each other's models and build lasting partnerships.

Online Masterclass
Bertha also funded a Skylight masterclass on human rights media with the goal of activists and lawyers in Bertha's network accessing it to learn how they can best make use of media as a tool in their advocacy campaigns. After a comprehensive research period, Skylight launched the online masterclass course in Spring 2018, highlighting the inspiring power of social justice documentaries. Students are able to take the course (estimated at 4-6 hours self-guided study time) as groups or as individuals and can interact with the presenters via chat rooms and live feeds.
"This is a great course that allows people to become better educated in human rights and the processes that go into making a human rights documentary." - James Duncan, course participant
"The structure of the course was great and it allowed me to have a better understanding of how human rights media is a constant and ongoing process that creates change." - Anna Capri Perez, course participant
CONCLUSION
"Without Bertha's support and their cultivation of unifying ideas around activism, legal strategies and filmmaking we wouldn't be able to build the virtuous circle that exponentially translates into impact for our documentary film work."

- Pamela Yates, Creative Director, Skylight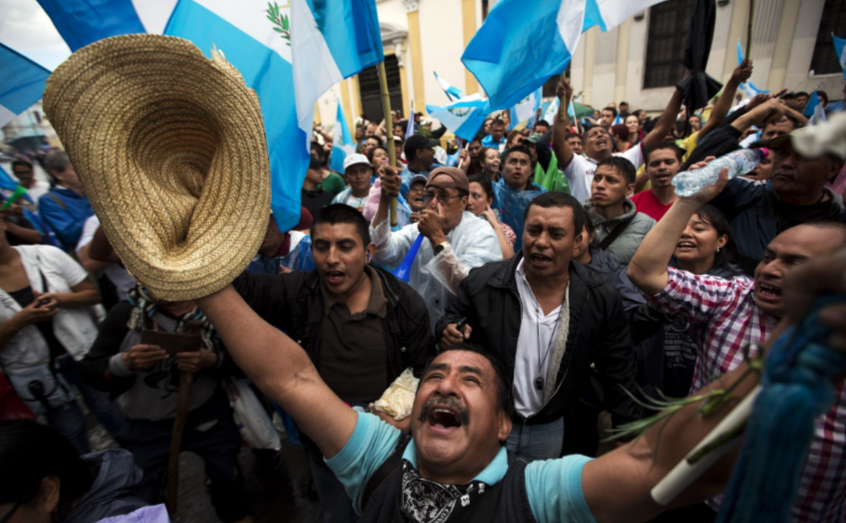 Skylight has been an integral grantee in the development of Bertha's storytelling portfolio. In the early days of Bertha's Social Impact Media Program, it was incredibly helpful to work with talented, experienced artists. Paco, Pamela and co-founder Peter Kinoy have continuously provided good counsel and are trusted advisors for Bertha. Learning from the strategies that they successfully employed was particularly useful when entering into the field of funding outreach.
The strong relationship between Bertha and Skylight is built on two-way support and open communication between the teams. This has allowed Bertha to respond to Skylight's expressed needs with flexibility, leading to a variety of support from production, outreach and project funding, to rapid response and general operating support. The respect between Bertha and Skylight enables us to learn from one another in our corresponding goals of using media in combination with law and activism as tools to build towards justice and social change.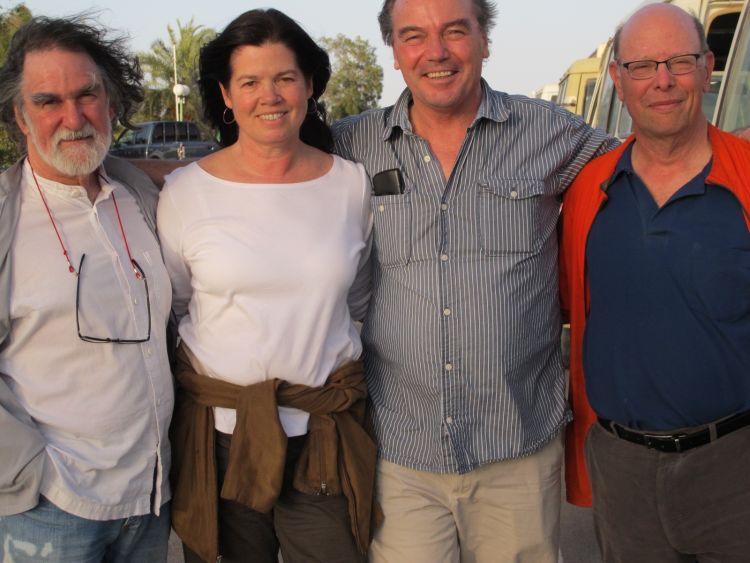 IMAGE CREDITS
Photos in this report are courtesy of:
Daniel Hernández Salazar
Dana Lixenberg
Newton Thomas Sigel
Melle van Essen
Susan Meiselas_Magnum
Sean Mattison
Patricia Rincón-Mautner
and Skylight