Cristina Antonio and
Nicolene Arcaina
Philippines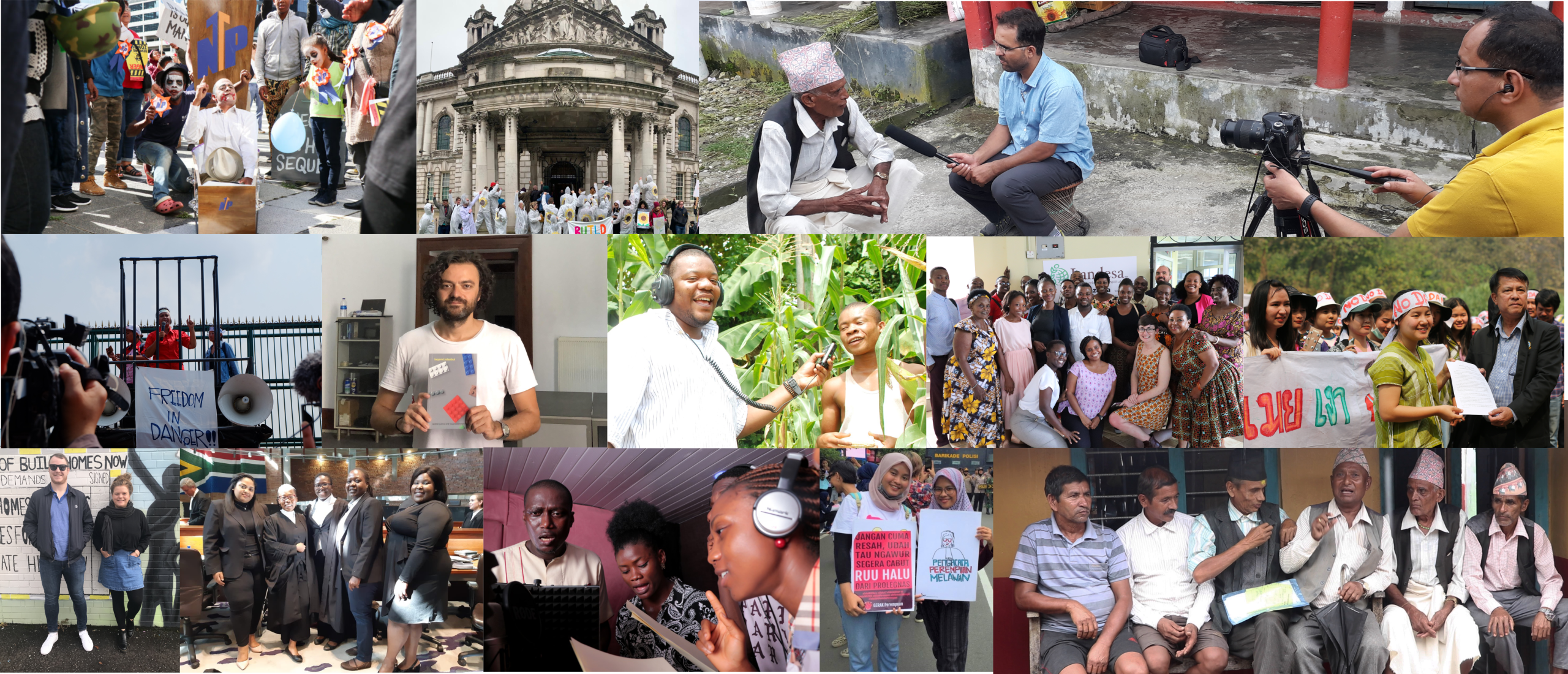 Bertha Justice Alumnx Cristina Antonio set a case in motion against the Philippine government's brutal police operations in its "war on drugs."
Bertha Justice Fellow Nicolene Arcaina continues the work, and the fight for vulnerable communities continues.
In mid-2016, the Philippine government launched a so-called "war on drugs" – a call to kill drug users and sellers that involves a campaign of state-mandated police operations known as Oplan Tokhang. This violent campaign has seen thousands of people killed and arbitrarily arrested by police and vigilantes. Bertha Justice Alumnx Cristina Antonio and Bertha Justice Fellow Nicolene Arcaina, both based at Center for International Law (Centerlaw), have used a combination of innovative legal casework, legal clinics, media advocacy and legal empowerment training in communities to address the war on drugs.
In January 2017, Cristina and senior lawyers from Centerlaw filed an innovative petition at the Supreme Court for Writ of Amparo – a form of protection order available to any person – against Oplan Tokhang. This case was brought forward as a result of an illegal anti-drugs police operation in Payatas, Quezon City, in Metro Manila, which took place in 2016. During this operation, four people were killed and one person, Efren Morillo, was injured. Afterwards, the police continued to visit and threaten survivors and families of victims in the district.
Centerlaw filed the case on behalf of the families of those killed, and filed a Writ of Amparo petition. Unlike ordinary Amparo cases, it sought to secure the right to life and liberty of the entire community of Payatas, Quezon City, rather than represent individual or separate cases. The petition was upheld in the Supreme Court and subsequently protection was extended to the whole community by the Court of Appeals. This was a landmark win in protecting communities vulnerable to Oplan Tokhang and set off a chain of further Writ of Amparo cases, opening the door for systemic change and community protection.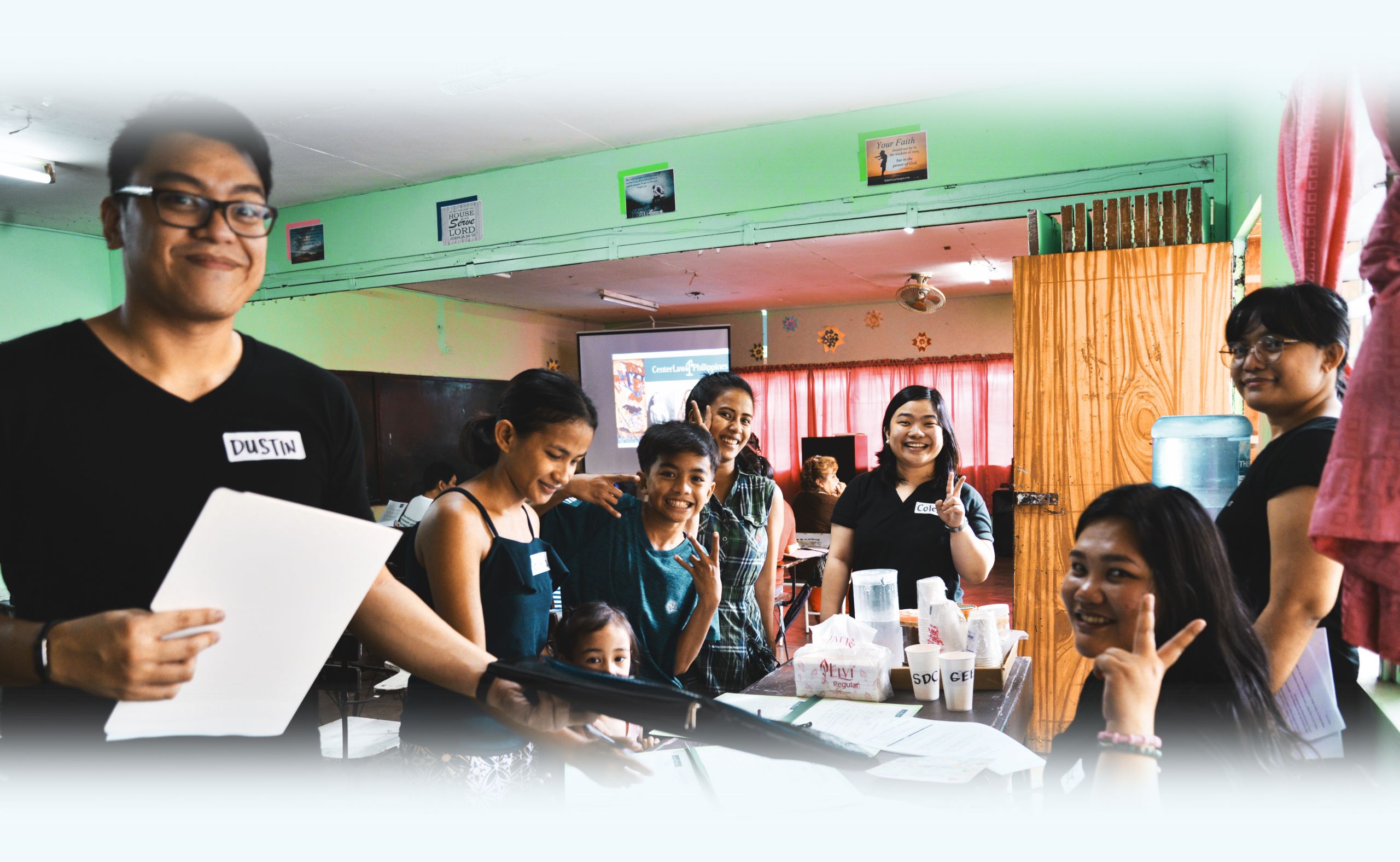 In 2019, Cristina completed her Fellowship and returned to her home region to bring a human rights–based approach to local government. She is now mayor of her hometown in the Northern Philippines. At the same time as Cristina's departure, Nicolene Arcaina joined Centerlaw and picked up where Cristina left off, continuing Centerlaw's work on ongoing Writ of Amparo cases.
"If the remedies in the Amparo cases are granted by the Philippine Supreme Court, these cases will be the first of their kind. Communities suffering from similar state abuse can avail themselves of the protections without resorting to cases being individually and separately filed – cases that always cost an arm and a leg. Winning this Amparo case opens doors not only to 'swift and cost-effective' justice, but to justice sought and won together and with each other. Never alone. The collective Filipino opinion on human rights and the war on drugs will be shaped. A Filipino will see the war on drugs as it is: anti-poor, heinous, downright evil and unforgivable. A victory in this Amparo case is hoped to be the face of justice to those who seek it and a beacon of light to those who have yet to come out of the dark."
Nicolene Arcaina, Centerlaw
In early 2019, the Writ of Amparo cases and other litigation led to a Supreme Court ruling that the Philippines National Police must produce thousands of official documents on those killed during the war on drugs. This ruling has the potential to provide evidence for legal remedy for many others seeking justice. With such a huge task in hand, Nicolene – alongside current Bertha Justice Fellows – now works on analyzing the documents to bolster arguments in the Supreme Court.
Cristina and Nicolene's work on the Writ of Amparo is part of a community-centered approach that provides physical safety and psychosocial support, and builds community confidence in the protection offered by the rule of law. Motivated by their work, the Writ of Amparo has been scaled up in other regions. These cases, which encourage systemic shifts in justice, do not happen overnight; they can require years of litigation and dedication. Because the Bertha Justice Initiative invests in the development of new Fellows every two years, this means that when one Fellow moves on, another can continue their work.
---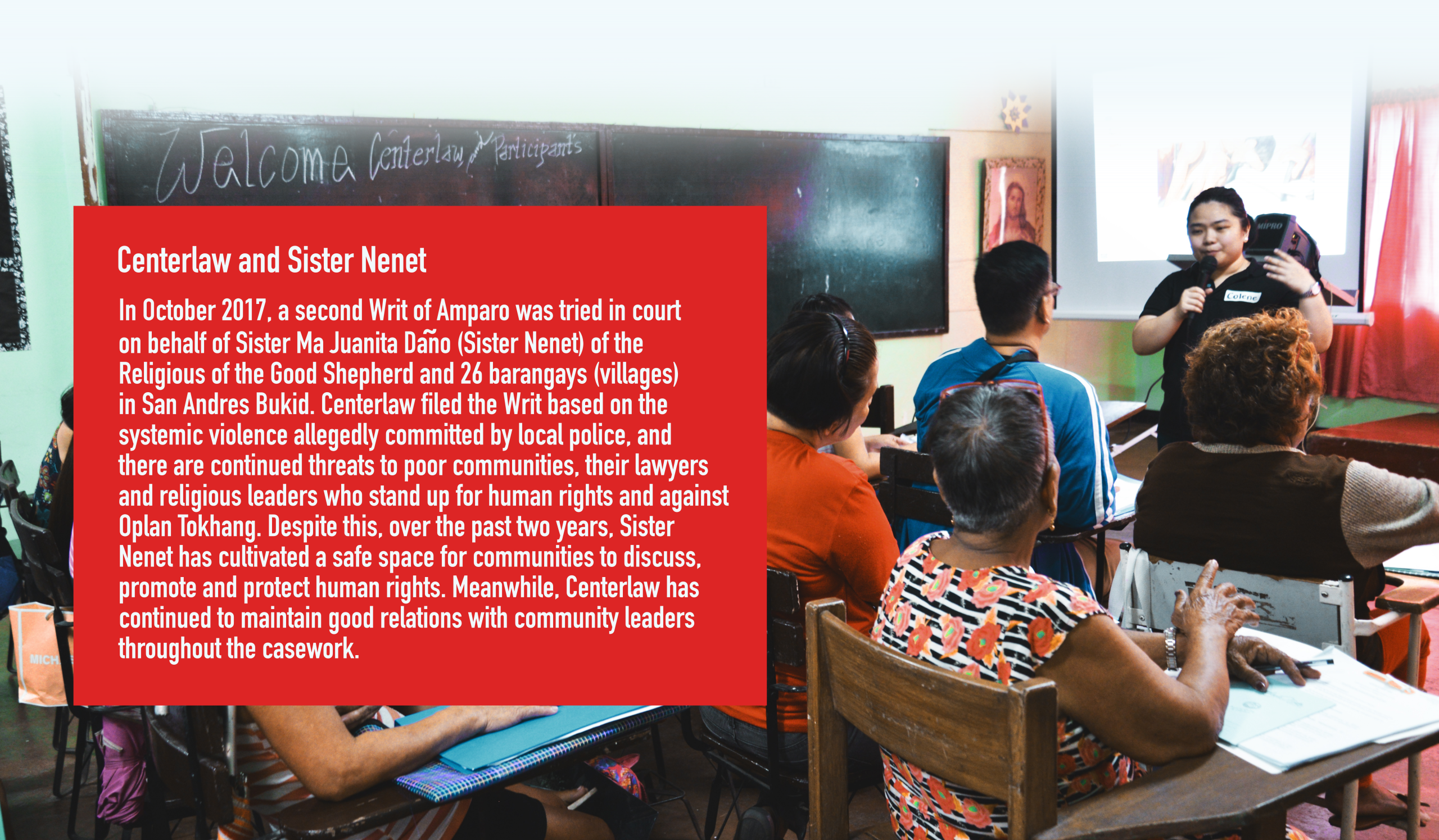 CREDITS
Photo 1: Nicolene Arcaina (far middle, in black polo shirt) and Bertha Justice Fellows Shawn Dustin Coscolluela (left), Gelie Erika Esteban (right, sitting) and Elreen Joy De Guzman (right, standing) share a light moment with participants at a training session registration table. Image: Centerlaw/Yan Tambong

Photo 2: Nicolene Arcaina (standing) facilitating and hosting a training session with participants from San Andres Bukid. Image: Centerlaw/Yan Tambong

Author: Shveta Shah, Program Director, Bertha Justice Initiative

Editorial Consultant: Karen Frances Eng
This story was originally published in the Bertha Fellows book and some of the information in this story may have changed since it was first published.