NDIFUNA UKWAZI AND RECLAIM THE CITY
A social movement that grew out of the fight for affordable housing – and had won the Barcelona City Government – faced a pivotal election. When they put out a global call for support, Cape Town housing activists and Bertha staff answered the appeal.
In five years, Ada Colau went from co- founding a housing advocacy group called La Pah to becoming the mayor of one of Europe's largest cities. During her time in government, Colau and Barcelona en Comú – a citizen's political party platform that emerged from La Pah – took radical steps to address Barcelona's housing crisis and other socio-economic challenges ignored by previous governments.
Colau's rapid rise to the mayor's office became an international example of "municipalism" – an old but increasingly popular form of political activism in which activists working to improve the quality of life in their cities contest positions in local government.
One of the many places the Barcelona success story resonated was Cape Town, South Africa. When Colau became mayor, South Africa was still battling the legacy of colonial and apartheid spatial segregation. In Cape Town, most Black residents live on the periphery of a city where buying a home – or even renting one – is unaffordable for most. Successive local governments and countless politicians have failed to act meaningfully to address this, and many Capetonians have lost faith in government to deliver on promises or represent their needs.
A Cape Town housing advocacy group and Bertha Foundation grantee, Ndifuna Ukwazi, saw an opportunity to learn from the Barcelona experience.
In 2017, representatives from Ndifuna Ukwazi and its affiliated social movement, Reclaim the City, attended a global gathering in Barcelona hosted by Barcelona en Comú, where they built relationships with Spanish housing activists and others from around the globe.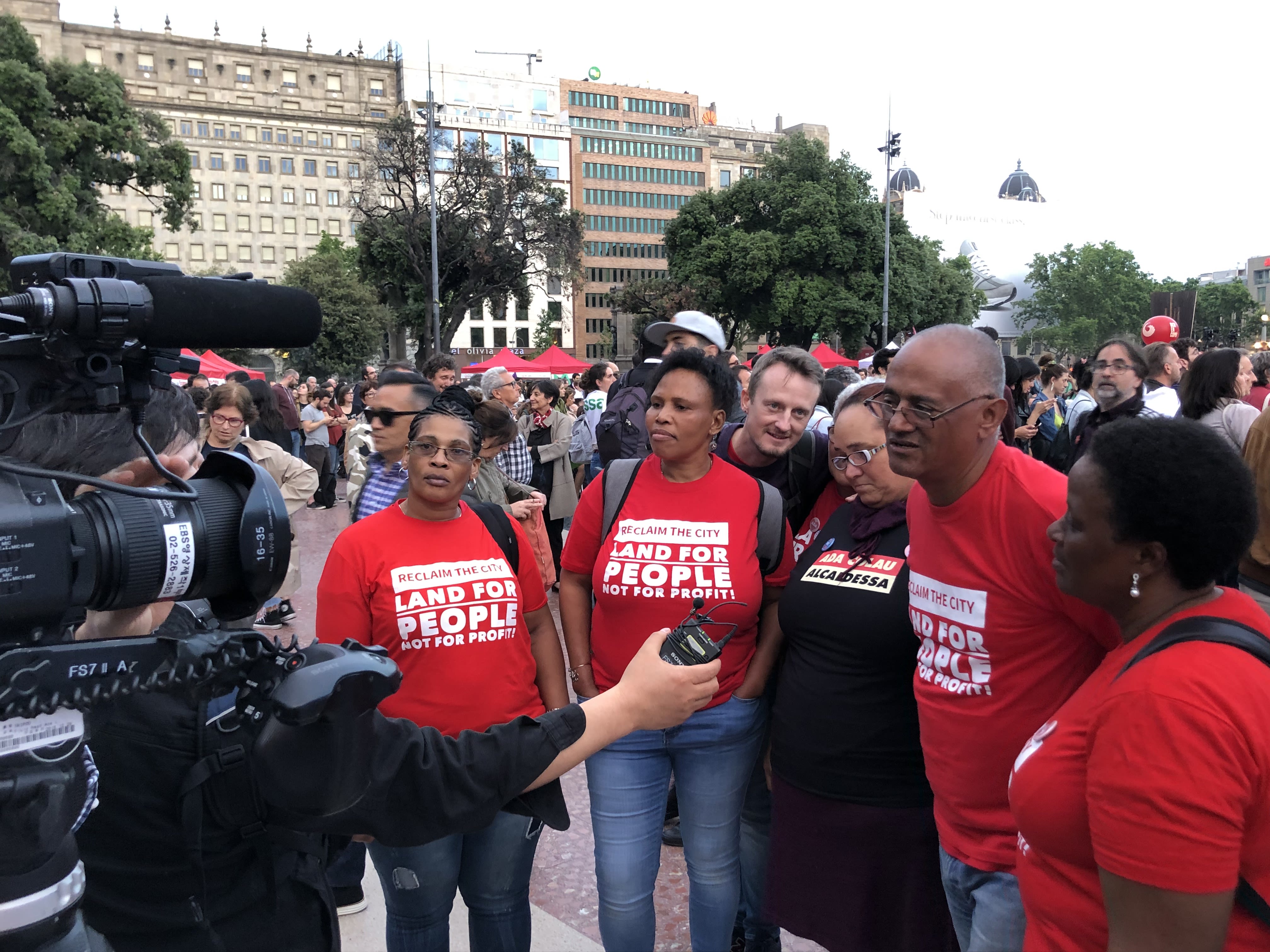 Two years later, news reached South Africa that Colau and Barcelona en Comú were facing an extremely close re-election battle. Colau was calling on global partners to come to Spain and join the campaign in the weeks leading up to the election. In a show of solidarity, Ndifuna Ukwazi and Reclaim the City wanted to heed the call, but as it came on very short notice, they didn't have the funding to cover the substantial costs associated with the trip. This was when Ndifuna Ukwazi and Reclaim the City came to Bertha. Based on previous work together, they knew that Bertha had funding opportunities for situations exactly like this: time sensitive, impactful and connection building.
Bertha's Impact Opportunity Fund allowed them to secure the funding needed within a matter of days and a delegation of South African activists – many of whom had never left the country – was on their way to Spain. During their time there, they assisted the campaign in various ways, from putting up campaign posters late at night to speaking on public platforms in support of the mayor.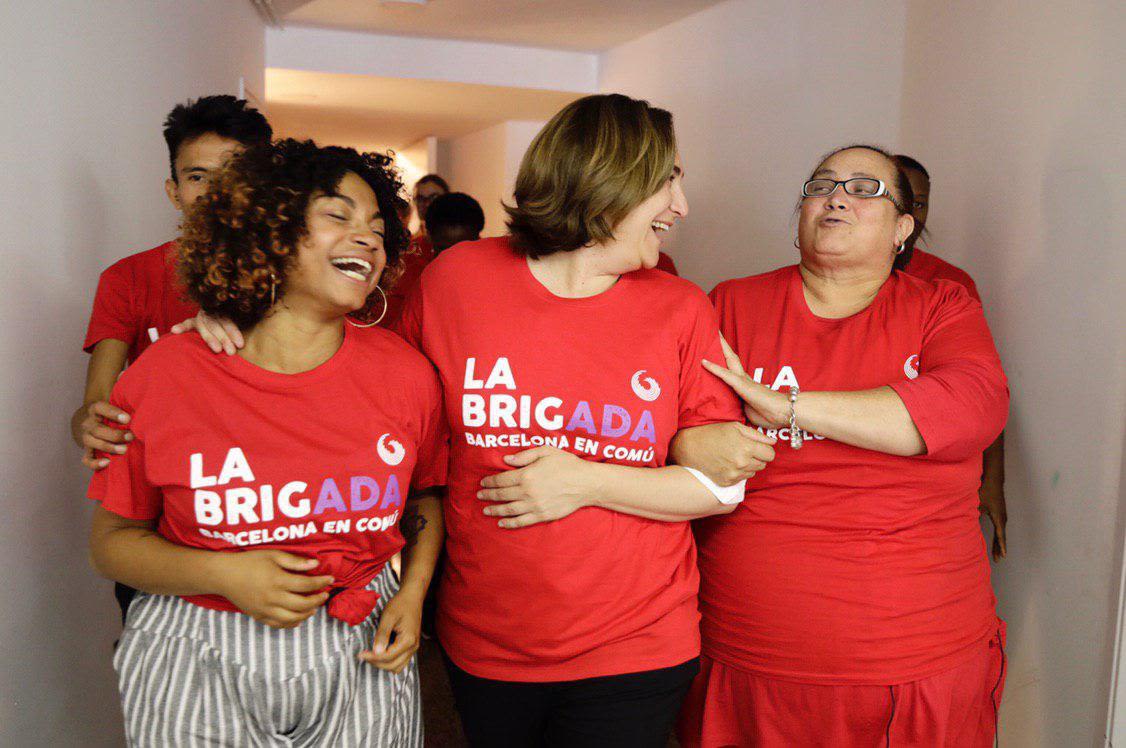 One activist on the trip was Faghmeeda Ling, a leader in the Reclaim the City movement, who saw many similarities between Colau and herself. Aside from both being activists, both are mothers who have faced eviction and the prospect of homelessness. Ling was very inspired to see a fellow woman fearlessly standing up to banks and government officials, and eventually becoming mayor of her city. During the visit Ling spoke on behalf of Reclaim the City at a mass rally held on Plaça de Catalunya, in the heart of Barcelona, where she also got to meet Colau:
"Meeting Ada was a big highlight for me because we have so much in common and I respect so much of what she's done. At the rally, I had to speak to a crowd of 3,000 people, which was terrifying, but it was very emotional getting them to chant 'Amandla aWethu' (an anti-apartheid slogan translating to 'Power to the People'). I'll never forget that day."
The South African activists also got to learn about political organizing and housing advocacy in Spain. One of the events they attended was an "advice assembly," in which people facing eviction or other housing challenges come together to support one another. Following the visit, Reclaim the City started hosting its own advice assemblies – a program that continues to this day. In the end, the election resulted in Barcelona en Comú forming a coalition and Colau retaining the mayorship, which she continues to hold.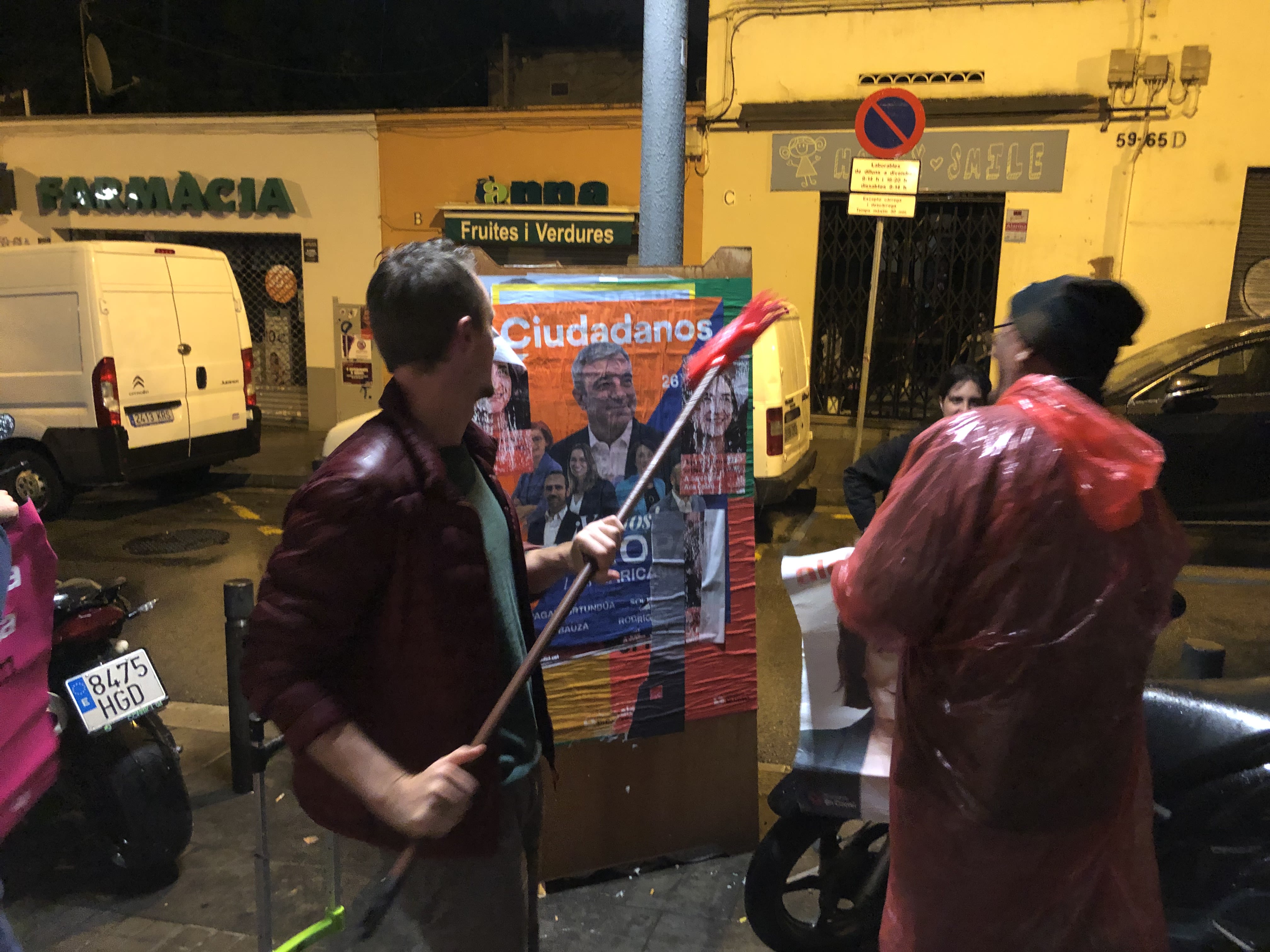 Ndifuna Ukwazi and Reclaim the City were joined on the trip by Pearlie Joubert. Journalist, filmmaker and director of the Bertha Challenge, Pearlie is making a film about housing activism in Cape Town. She was also able to secure funding through an Impact Opportunity Fund, which enabled her and her co-filmmaker, Miki Redelinghuys, to chronicle interactions among housing activists in Cape Town and others around the world.
"The trip to Barcelona – with the housing activists from Cape Town engaging with land and social justice activists from around the world – was a great opportunity for the documentary film we are working on. It afforded us a unique opportunity to see participants of the film on an international stage. More importantly, it underscored the very special South African way of activism. It was electrifying." – Pearlie Joubert, Director, Bertha Challenge
Want to find out more?
Learn more about Ndifuna Ukwazi here.
Learn more about Reclaim the City here.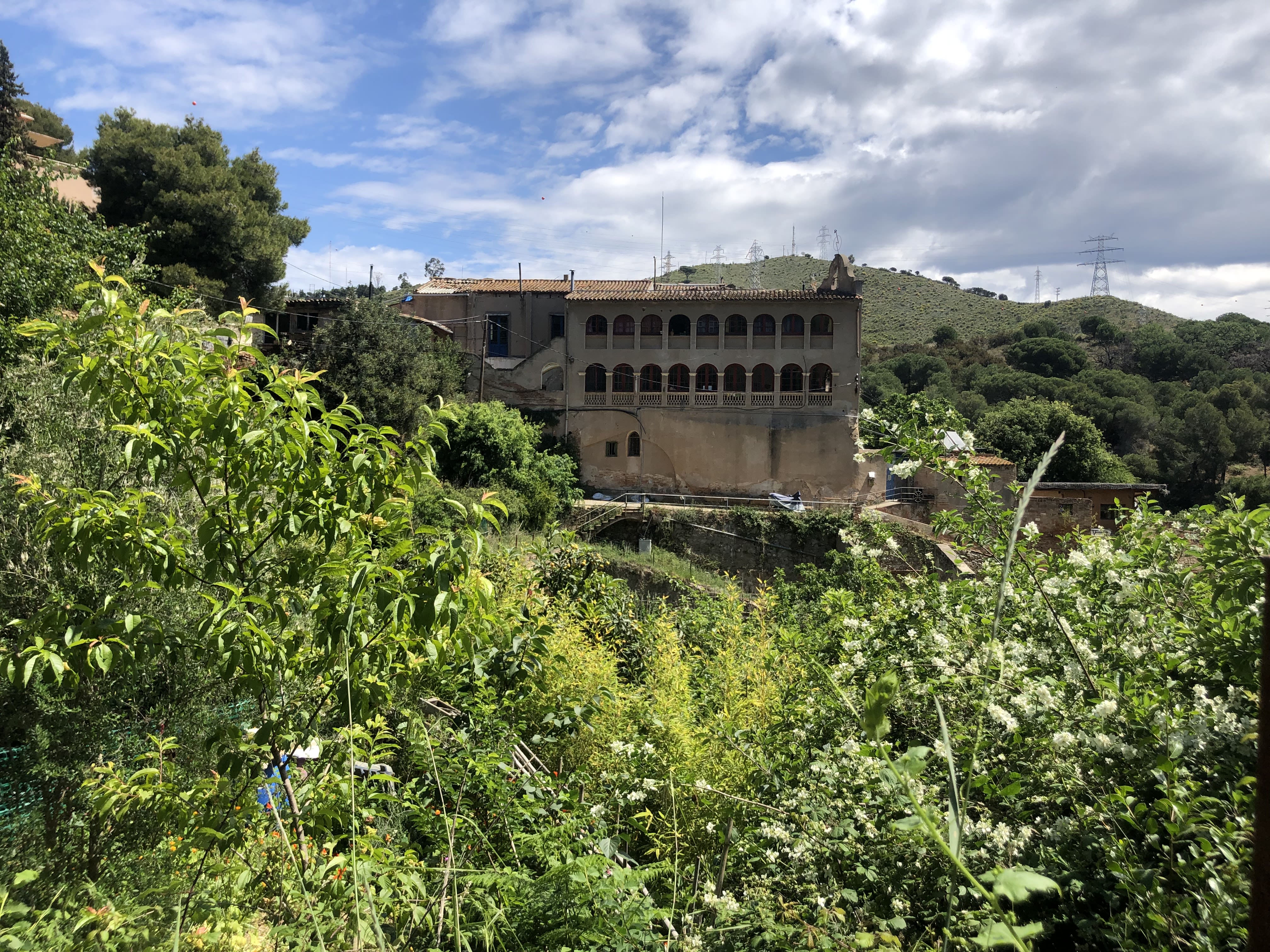 CREDITS
Photo 1: Representatives from Reclaim the City are interviewed by a local Spanish television crew. Photo: Pearlie Joubert

Photo 2: Nelini Stamp (left), Ada Colau, Mayor of Barcelona (center), and Faghmeeda Ling (right) share a light moment two days before the municipal election in Barcelona. Photo: Pearlie Joubert
Photo 3: Jared Rossouw, South African activist and Bertha Challenge Alumnx, put up posters in Barcelona. Photo: Pearlie Joubert
Photo 4: During the visit to Spain, housing activists from Cape Town went to Can Masdeu, a former hospital on the outskirts of Barcelona occupied by international housing activists 21 years ago.

Copy Editor: Catherine Sweet
This story was originally published in the Bertha Funds book and some of the information in this story may have changed since it was first published.