The Yes Men
South Africa, Northern Ireland, Tanzania, Canada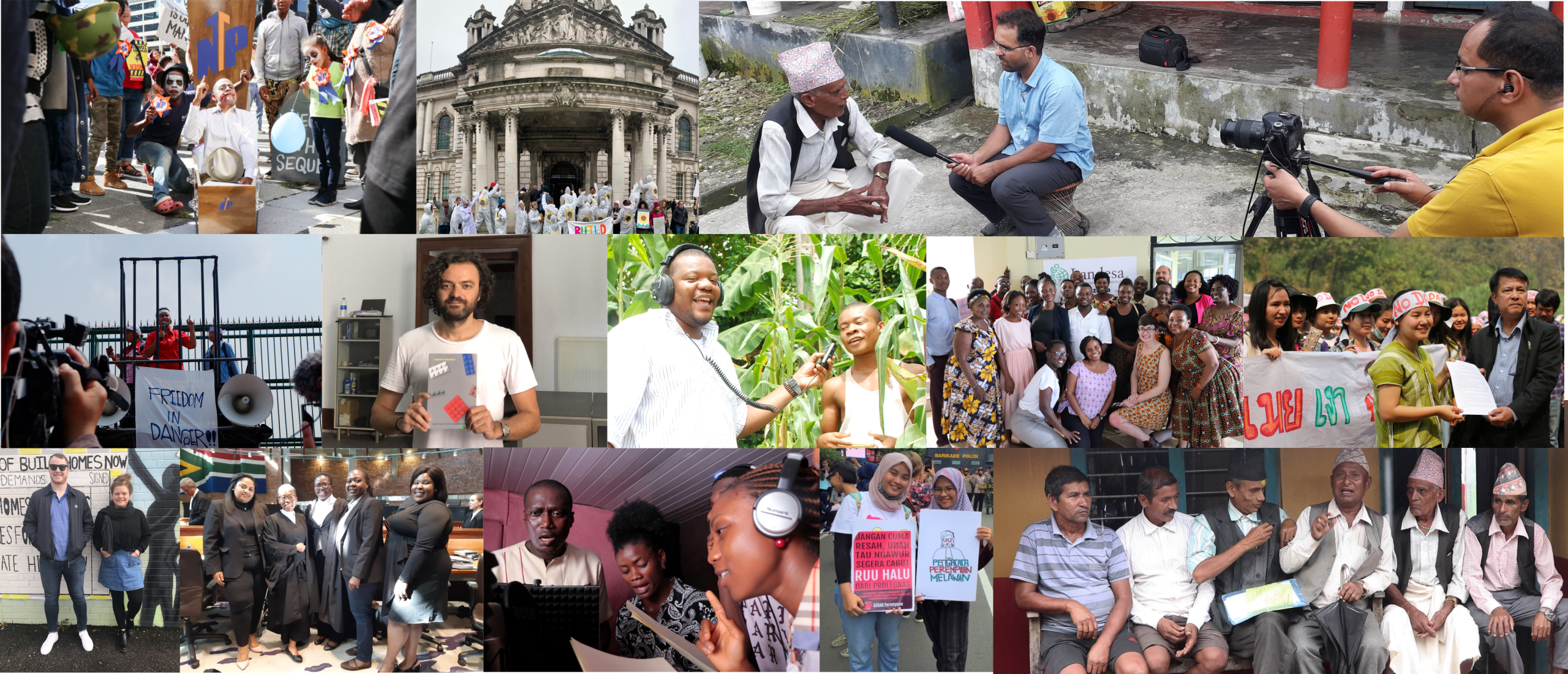 Bertha Challenge Activist Fellows teamed up with the Yes Men,
a creative activism group experienced in using humor to amplify campaigns.

The Yes Men worked with Fellows' host organizations to co-create actions experimenting with new ways of organizing and campaigning.
In an era of ever-shorter news cycles, endless social media and fake news, it's becoming more and more challenging to elevate a campaign message above the clamor. With this in mind, Bertha invited activist Fellows to work with the Yes Men, a Bertha grantee and creative activism group with 20 years' experience in "laughtivism" – using political satire and comic performance stunts to expose corporate and political malpractice.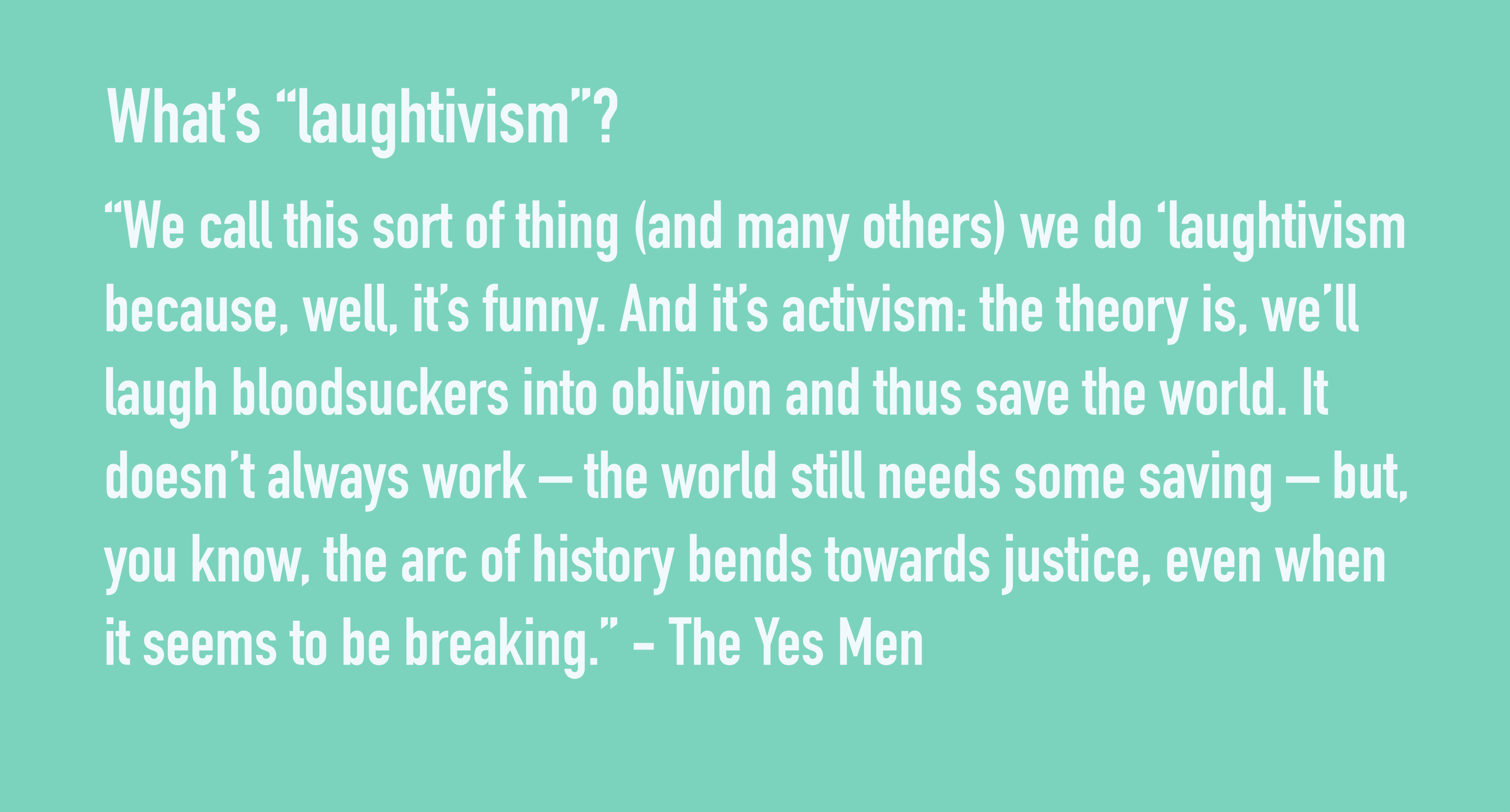 The Yes Men worked in collaboration with six Bertha Challenge Fellows and their host organizations to co-create actions and projects that used humor to amplify their work. This included a zombie march in South Africa, the fake launch of an eco- village housing development in Ireland, an invisible theater production drawing attention to women's land rights in Tanzania and a viral video to launch a new global housing movement.
All of these projects provided not only an opportunity for Fellows to learn from the Yes Men, but also for the Yes Men to learn about – and amplify – extraordinary creative activism already underway in different parts of the world.
"I've always thought of what we do, and what people like us to do, as about getting the most press attention. But really it can be about bringing a community together, educating young people – that was a real learning point." – Jacques Servin, the Yes Men, talking about his experiences of working with Reclaim the City activists in Cape Town, South Africa.
The Yes Men have used the partnership with Bertha Challenge Fellows to begin developing a series of activist training videos, sharing both the processes and learnings from their involvement with the Bertha Challenge actions. These will eventually contribute to a global activist platform for sharing tools, lessons and case studies.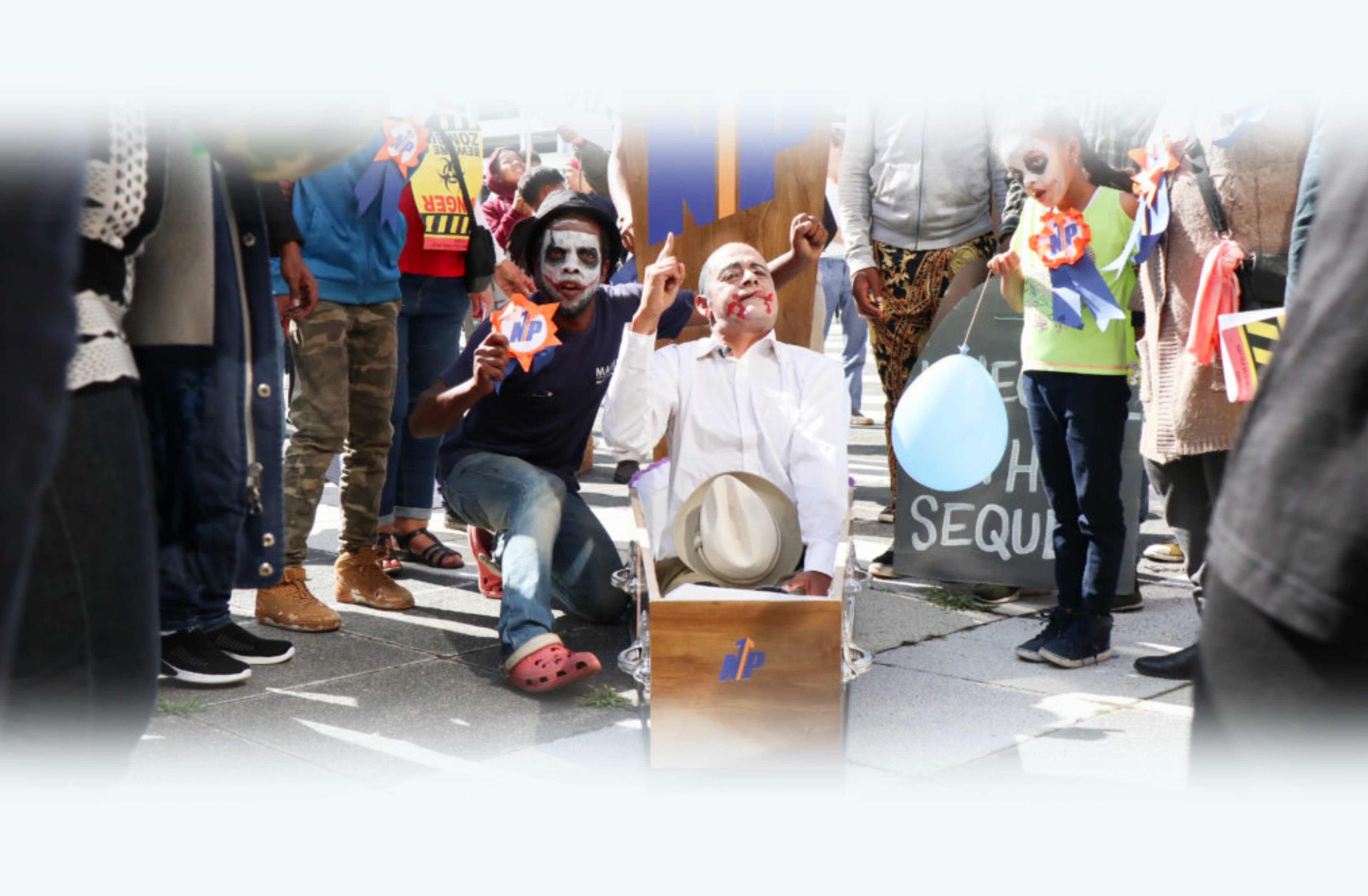 Zombie march in South Africa
"We tend to fall into well-worn grooves and ruts of organizing and protesting. And it gets to the stage where we sing the same songs, we march the same routes, we write the same press statements and letters, and it loses its bite... I think many of us have felt that it no longer shifts things." - activist Fellow Jared Rossouw on why Reclaim the City decided to work with the Yes Men
Reclaim the City and Bertha Challenge Fellow Jared Rossouw, together with the Yes Men, coordinated community events that drew attention to apartheid-like housing policies being brought "back from the dead" by the city. The week culminated in a "zombie march" across Cape Town. Over 200 people joined the tongue-in-cheek rally, posing as apartheid-era government officials returning from the grave to support the mayor – loudly and publicly – outside his office.
The idea for the zombie march came out of early brainstorming sessions between the Yes Men, Jared, and Reclaim the City colleagues. It was the first time the organization had worked on an action designed from the outset to combine protest and humor in one event. The result: a unifying week of activities that brought together activists of all ages.
"Those who saw what it was all about were extremely excited that we could take a subject such as displacement, such as housing, and form it into public protest, into civic theatre, that attracted people who wanted to be part of it. We got phone calls, SMSes, emails from people after the event... It was clear that those who were fortunate to have seen it and to have participated in it were won over by the idea that street theatre and art and culture can be an integral part of protest." – Bevil Lucas, Reclaim the City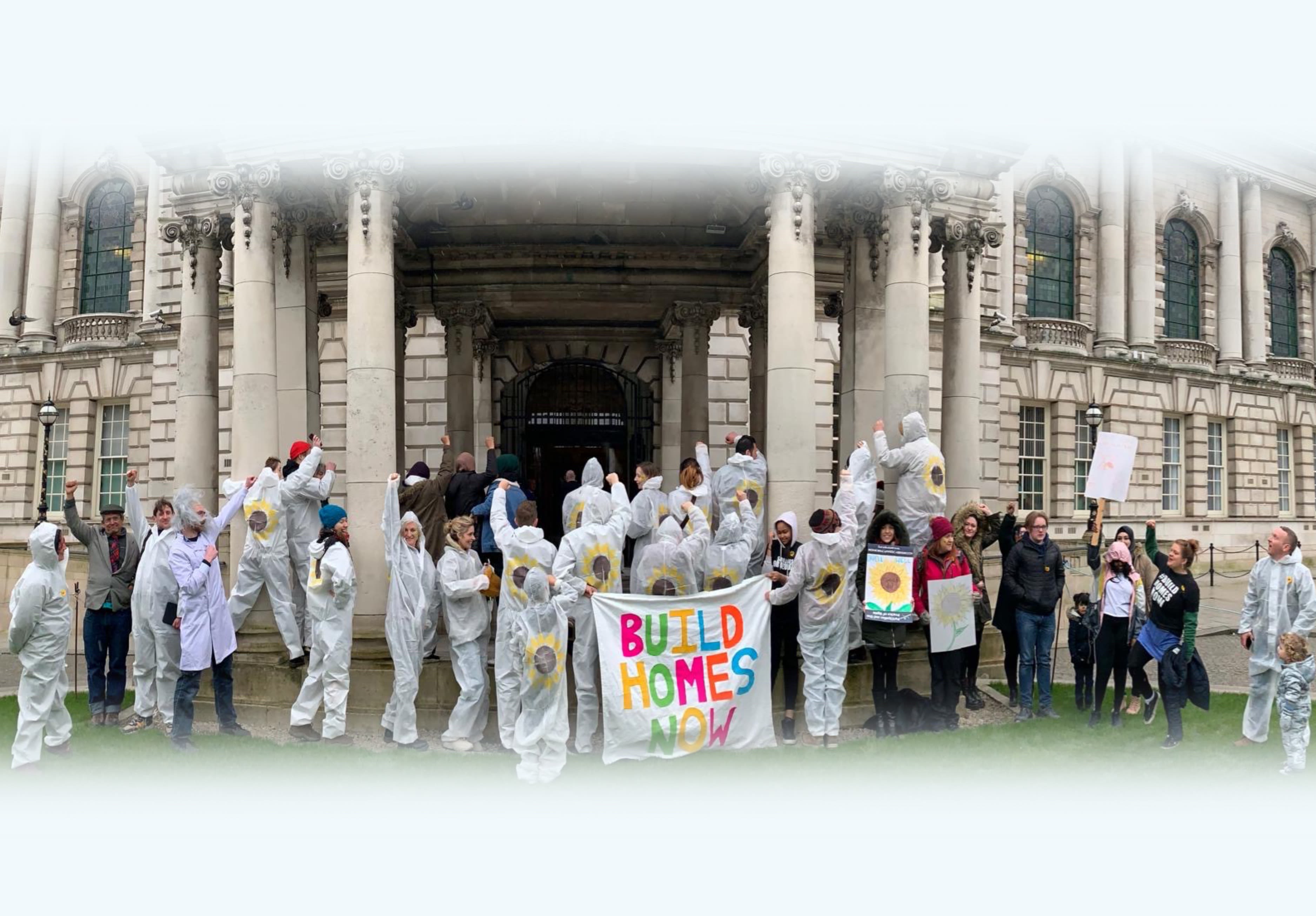 Showing that affordable integrated housing is possible in Belfast
"We wanted to have our own creative way of making a mockery of planning processes and development in Belfast today." – activist Fellow Elfie Seymour on what Build Homes Now hoped to get from working with the Yes Men
The Yes Men worked with Fellow Elfie Seymour and the Build Homes Now campaign in support of social housing on a publicly owned vacant site in Belfast. Posing as representatives from a fake housing- development firm, the Yes Men met officials and infiltrated high-profile events to launch a fake eco-village development, highlighting failures by the local government to provide adequate housing for young people and their families. Then local activists and families symbolically "detoxified" the land by planting sunflowers on the site, in preparation for the new development. While in Belfast, the Yes Men used subvertising campaign tactics – erecting billboards and bus-stop adverts across the city for the proposed housing development.
"[The action] raised awareness of the fact that the resources are here to tackle the housing crisis in Northern Ireland." – Rory Winters, Bertha Challenge Investigative Journalist Fellow, who reported on the event
The project helped energize, activate and expand community participation in Build Homes Now: new supporters became active participants in the campaign as a result of the action and the Yes Men's involvement.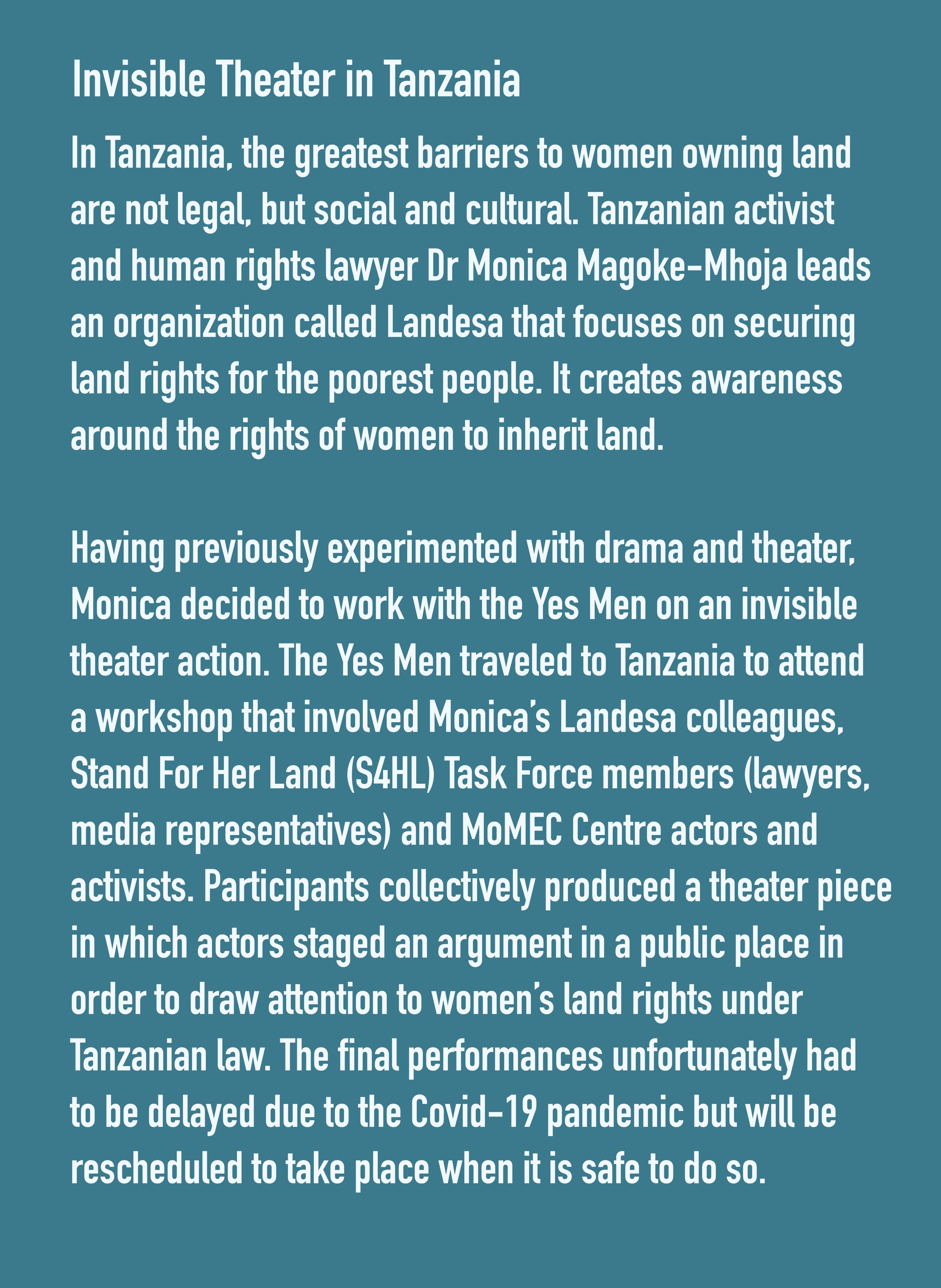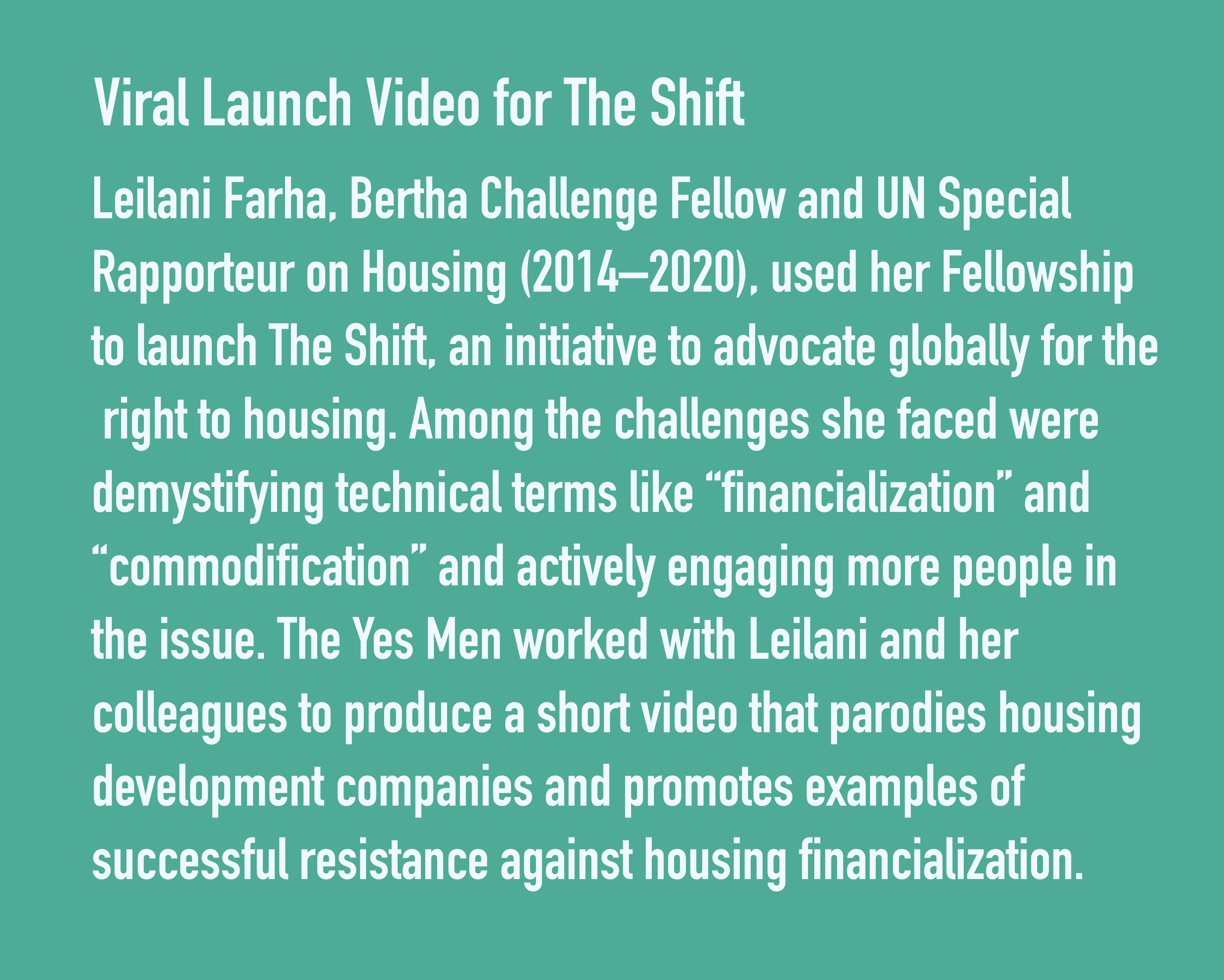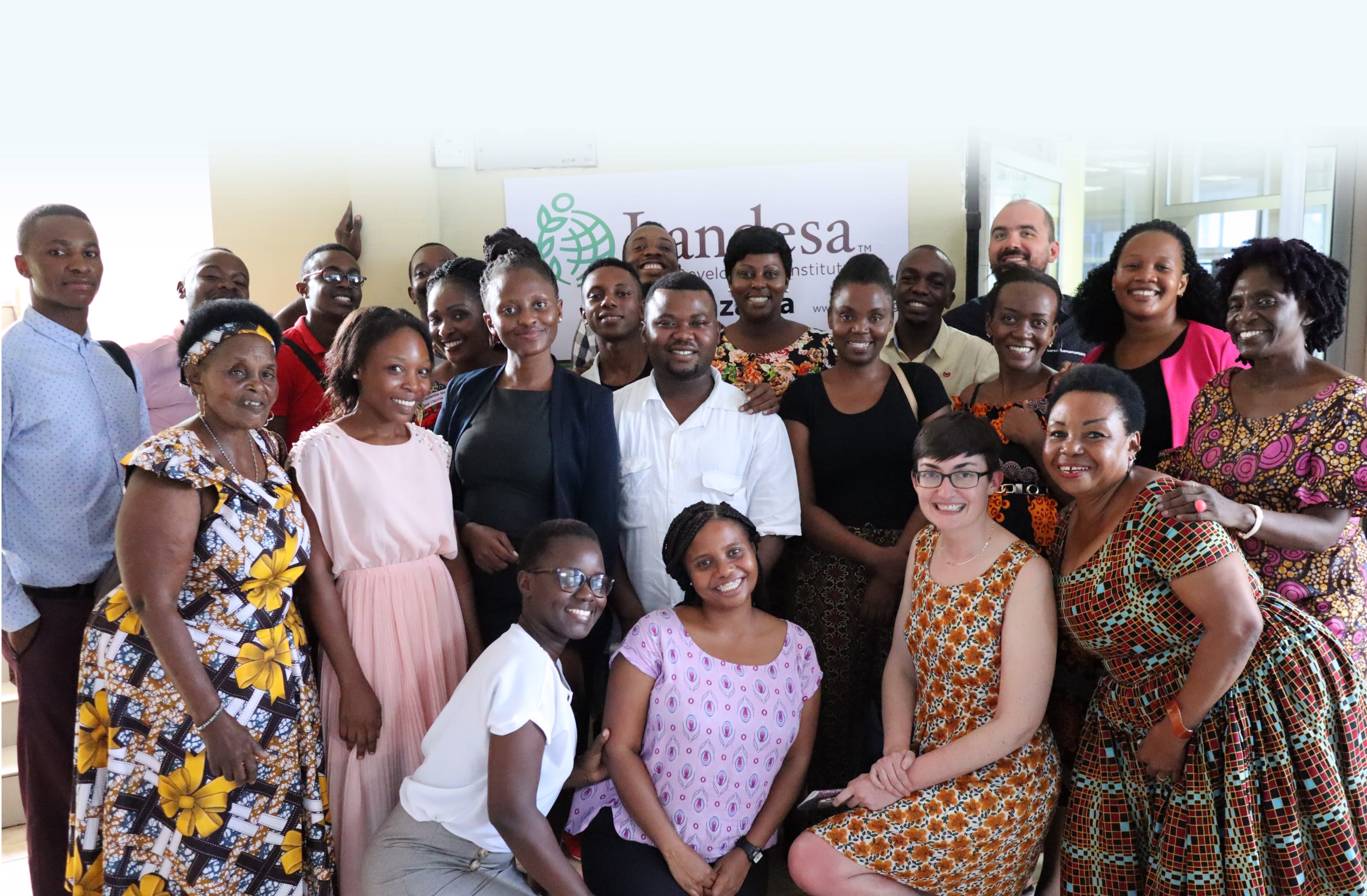 CREDITS
Photo 1: Protestors outside the town hall during a zombie march in Cape Town. Image: Matthew Hirsch

Photo 2: Elfie Seymour (second from right) with PPR campaigners and the Yes Men calling for affordable social housing outside Belfast Town Hall. Image: Build Homes Now

Photo 3: S4HL representatives, the invisible theater MoMEC actors and the Yes Men's Keil Troisi (back row, second from right) at a workshop. Image: Gavin Silber

Authors: The Bertha Challenge Team

Editorial Consultant: Karen Frances Eng
This story was originally published in the Bertha Fellows book and some of the information in this story may have changed since it was first published.