My name is Thomas B. Harvey and I am the Executive Director and co-founder of ArchCity Defenders, a Bertha Foundation partner in the pursuit of social justice through the law. ArchCity Defenders (ACD) is a 501(c)3 non-profit law firm providing holistic legal advocacy to the poor and homeless in the St. Louis region and beyond.  ACD uses direct services, impact litigation, and policy and media advocacy as its primary tools to promote justice, protect civil and human rights, and bring about systemic change on behalf of the poor and communities of color directly impacted by the abuses of the criminal legal system.
There are only three things that occur every day of my work life:  I wake up every day thinking about how I can subvert a system specifically and intentionally designed to benefit me and people like me; I know that no matter how many individual cases we take, lawsuits we file, policies we change, and op-eds we write, it will take Harvard's graduating class of 500 lawyers all choosing every year to work for the poor, communities of color, and the marginalized to make real change in America; and I get to meet, work with, and be inspired by people whose lived experience includes more hardship than I ever will know.
Aside from this, I don't know what to expect each day. At a holistic legal advocacy shop, your clients might need you to defend against felony charges, petition for a modification of child support, get nutritional assistance, help them move out of their house before they are evicted, give them a ride to the doctor, or just pick up the phone and listen to them for a few minutes.  Some days it's all of the above and a trip to the methadone clinic to wrap it all up.
It makes it hard to plan for a typical day.
Plus, at a small organization, you end up doing everything.  Some days I travel to Harvard, Yale, UCLA or Stanford to give a talk.  Some days I stand up in federal court and argue that the police in the City of St. Louis, St. Louis County, and the State of Missouri violated the Constitution when they tear gassed protesters.  That's really gratifying…right up until the moment they teargas the protesters again.  Other days I go to work early, put on a pot of coffee, take out the trash, and take my best shot at assembling a desk for a new attorney.  Of all these tasks, I am best at taking out the trash and worst at desk assembly.
I spend a part of each day managing people, which isn't fun and it isn't why I went to law school.  I know that everyone here has a stressful job and they know that no matter how stressful it is for them, it only amounts to about 1% of how their clients feel everyday.   I also know that they're all independent people with a healthy, welcome, and almost required, disrespect for authority who spend their days fighting and often winning an uphill battle in the courts only to be asked to follow that up by fixing their client's non-legal problems.  Knowing those stresses, it's hard to begrudge someone the occasional (or frequent) F-bomb, loud and angry phone call, slammed door or show tune belted out at the top of her lungs when her homeless schizophrenic client goes back into the restaurant from which he has been banned for the 8th time.  It's a tough line to walk; especially when you've been known to model all of the above behaviors.
I don't go to court that much anymore and part of me misses the rush of being there.   And while this has caused me to lose some sense of how the new and different players in the legal system perpetuate the system, I don't need to be there everyday to know how that works.
But even though I don't go to court to see the spectacle, I do make it a point to meet the real human beings we represent.  It keeps me grounded and reminds me why we're here and how much work there is to do.  One minute I am talking to the New York Times editorial board and the next I am meeting people who have had their lives destroyed by the very system that employs us.  They tell harrowing stories of how unpaid traffic tickets led to being locked in a dungeon masquerading as a local jail and sleeping on the floor without a blanket in a cage made for four people that made money off of the jailing of twelve at a time while they were there.  They tell me that they've been arrested so many times for their poverty and race in this system that calls itself justice that they can't tell me which jail, on which charge, or for how long they were there.  It's not that they're lying; it's just that it is so common for them that the only thing that stands out is how the drinking water in this jail came out of the toilet or the guards in that jail wouldn't give them tampons.
It's simultaneously depressing and invigorating.  You won a federal lawsuit eliminating cash bail yesterday?  Who cares? Maybe the Marshall Project does but not the people in the next town over who just spent 29 days in jail and left owing $1700 in fines for their ordinance violations and $2700 for the daily fee the jail charges to hold them.
Pat yourself on the back, have a laugh, pause to consider how much your attorneys have accomplished and then get back to work.
The best part of what I get to do on a daily basis is meet people: the people who work for us, the people who work with us, and the people we work for.  The people working at ArchCity Defenders inspire me and amaze me everyday.  They are devoted to getting the best results for our clients and fighting until they do, no matter the personal or professional cost, and regardless of whether they have to sit in a cubicle or a moldy office with a leaky ceiling simultaneously running the heat and cooling because the HVAC isn't working again.  I love and admire them all.
Equally inspiring are the people who work with us and let us work with them.  There's no better feeling than sharing struggles or celebrating a brief victory with Brendan Roediger, Nicole Lee, Robin Steinberg, Vince Warren, Doug Ammar, Purvi Shah, Denise Lieberman, Carl Williams, John Amman, Daryl Atkinson and Alec Karakatsanis.  It's a great feeling to share the sense that in spite of the losses and the ongoing challenges, we're going to get up tomorrow and do it all again.  We may be in different places across the country working on different issues related to how the legal system destroys the lives of poor and Black people in America but we have each other's back and eventually, we're going to win.
But the best part of this job is the daily opportunity to meet the people who are impacted by the system that gives us a job.  They are our heroes.  They've been arrested, jailed, harassed, mocked, evicted, fined, made homeless, and yet still they keep fighting.  Everyday, I have the privilege of working with and for people who faced greater challenges coming to our office than I do in a month's time.  I have an endless amount of respect and admiration for them because I know I couldn't make it in their shoes.  Getting to know people who have mastered the skill of surviving a world hell-bent on destroying them is reward enough and that's what keeps us going.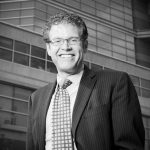 Thomas Harvey, Co-Founder and Executive Director, ArchCity Defenders
Follow ArchCity Defenders on Twitter @ArchCitydefense
Check out their website for more info: http://www.archcitydefenders.org
Article Tags: ArchCity Defenders / human rights lawyers / movement lawyering / USA